Do you also want a huge traffic on your business website? Check out these 40 effective ways to drive massive traffic to your website.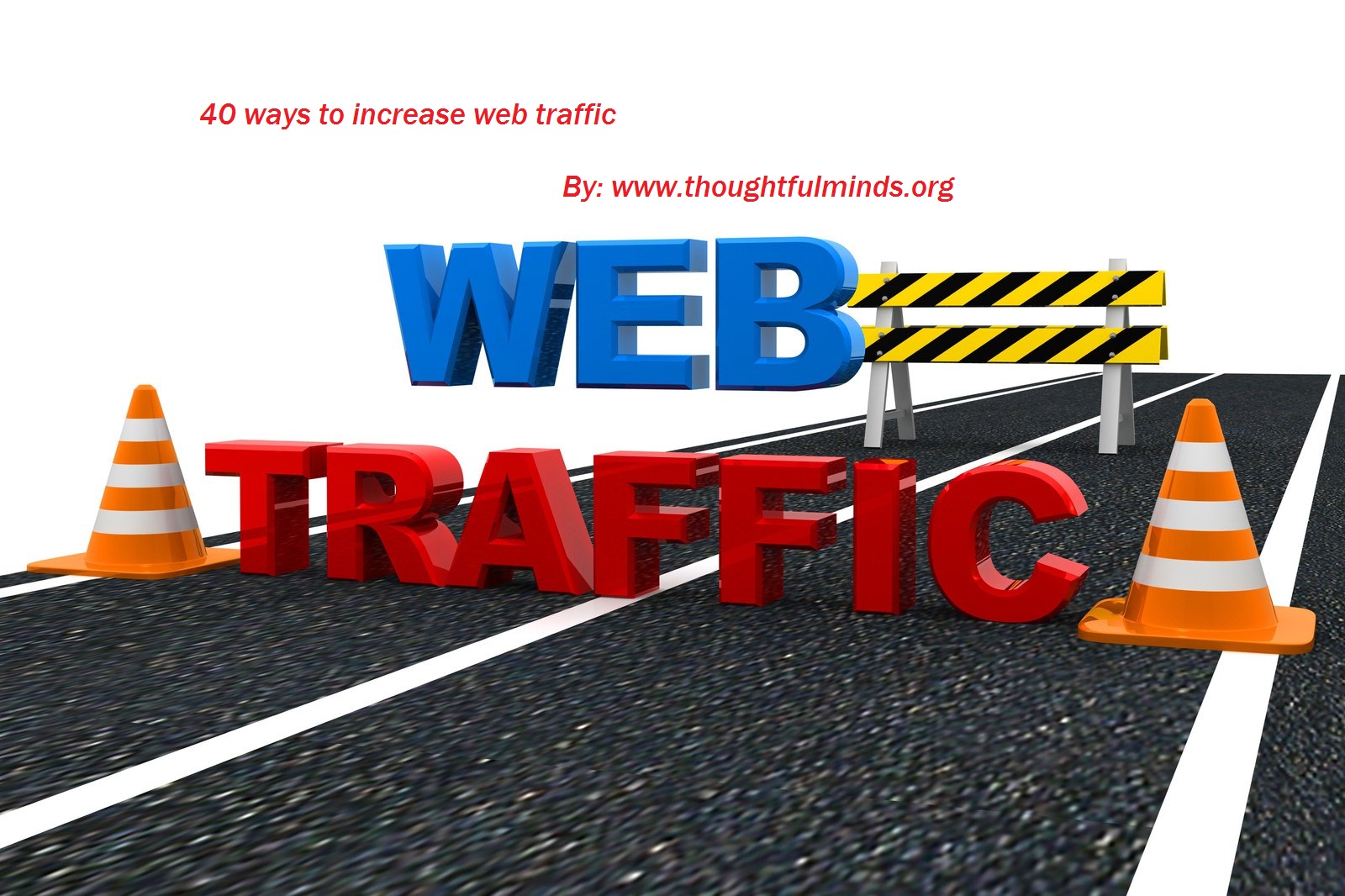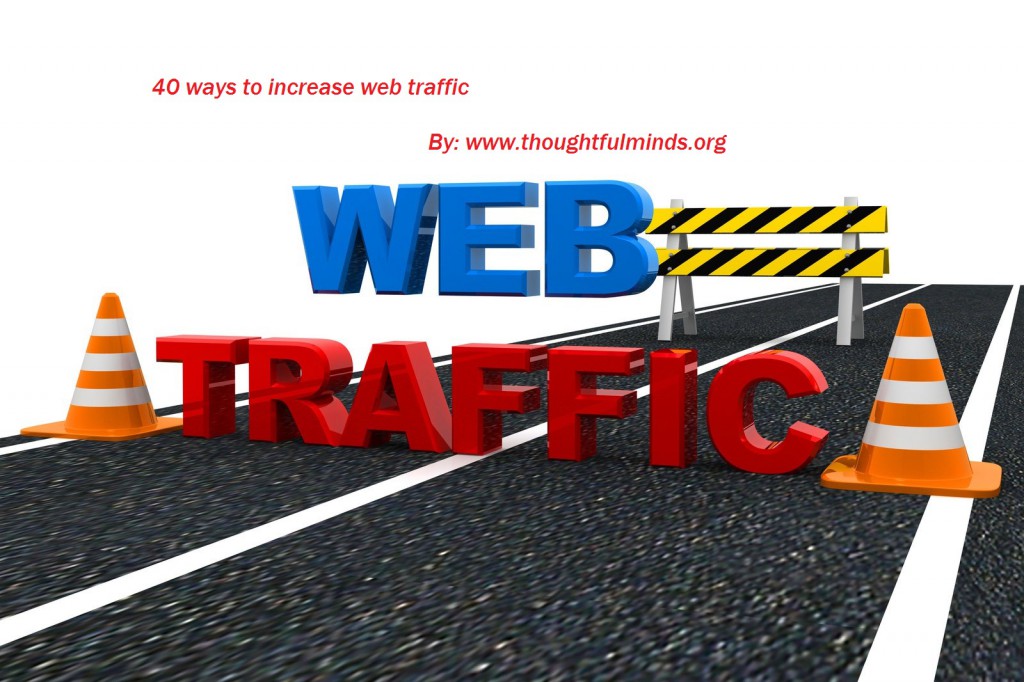 After you know the 4 proven ways to improve ranking of a website, here we are now focusing on increasing traffic on a website. Less traffic on the business website is the major problem of a business owner. In many business reports too, you can easily see the degradation of customers who visit a business website in the past two to three years. For the growth of a business, it's important to increase the reach of your business and for that a huge traffic on a business website is required.
In this article, you find the effective tips that help to you drive huge traffic to your business website which indirectly results in the enhancement of sales of your business. There are techniques that took some time to come into action, but will give you definite reliable outcomes.
40 incredible ways to drive massive traffic to your business website are as follows:
Select the long tail keywords- The days to optimize a website for the short keywords are gone. To optimize a webpage with keywords of one or two words, there are millions of websites in the queue and it also takes a lot of time to do so. Instead of this, you should try to optimize your website for the long tail keywords that are close to the small keywords. This will not only took less time to come in the top searches on Google, but also give you reliable results.
Start forum on your website- To get ranked for the long tail keyword quickly, you should begin a forum on your website. The forums will get you quick keyword ranking as when compared to the other ways. Forums are also beneficial to increase the on site time, decrease the website's bounce rate and build community.
Start groups on Facebook- Make a group and start to post rich content on your facebook group, which is related to your business niche. Don't forget to mention about your website products and services whenever necessary.
StumbleUpon- Submit regular blog posts to StumbleUpon.
Promote Blogs on your website through sending emails- You should write quality blogs and promote your posts by sending emails. It is important to note 10 common mistakes committed while writing a blog which you must avoid. This is required to give some backlinks to your website. This would not only drive traffic to your website but also increase the leads and sales of your business.
Answer the HARO queries- Answer to the HARO queries, it just takes a little time, but will get you a high quality inbound link and a referral traffic to your website.
Write attractive headlines- Headlines are the top part of any content that makes an individual to decide that whether he has to read the whole article or just ignore it. When a blog is shared, especially in the Social media, then you can notice, catchier headline blog would gather more number of visitors and likes than the simple headline post. So you should keep a pique headline for all your website content.
Join Blogging Communities- To create a network with the other bloggers, you need to join the blogging communities. It helps you to get the cross promotion of your blogs.
Interconnect the blog posts- You should interconnect the blog posts with one another by providing the links which are helpful for the readers and give them a better experience. This is a good and simple technique to increase the conversion rate and referral traffic.
Guest posting to Blogs- You should guest post on the blogs of different people that are highly relevant to your niche and of high PR.
Become a contributor to well renowned websites- By doing so, you will not only become an expert in a particular field but can also drive huge traffic to your website.
Work on to Optimize your earlier posts- Go through all the old posts on the website and check them against their relevant keywords, URLs, Meta titles and Meta descriptions.
Devalue the irrelevant site links of Google- As Google site links are automatically generated, make sure to demote the URL's that are irrelevant for your websites. This will increase the chance of your relevant URLs to show up at top in the Google search ranking.
Get an advertisement swap- Start trading of the banner or ads with a complimentary website in your niche.
Update websites frequently- It is found in a research that 6 blogs per week would drive 18.6% more traffic to any website. You should do it by yourself and get your magic numbers that help to increase the sales of your website.
Submit the blogs to Reddit- You should submit your articles, blog post and links to Reddit website.
Include name of influencers in daily tweets- While sharing your blogs on twitter, you should mention the quotation of great personalities with @personality name in your tweets. This would help you to bring huge traffic to your website.
Concentrate on strategies that are currently acting- Don't see others what they are doing, just focus on the primary traffic drivers of your website and make them more effective with your efforts.
Build Relationship in your niche- Build personal relationship with other people of your niche, as this will result in the referral website traffic and inbound links.
Optimize your website for every possible keyword- Ensure to optimize your website for each and every possible keyword that is relevant to your website. No matter that how ambiguous they were, at least it originates the chances of your website to display in the Google Search on that particular keyword.
Write top 10 posts- Select top 10 posts of your website's niche and write a post about it. You should remember to make a simple banner or badge, so that such websites embed to display their award.
Facebook linking- Link your website to Facebook by feeding the link of your website in the about page, photo description, in comments where ever relevant and in the milestones.
Submit Videos to YouTube- YouTube is an ultimate source to drive huge traffic to your website. You should submit videos related to your niche on YouTube.
Add alt text to your blog images- Include your post name or URLs in the Blog post images for its maximum effect at the time the images are shared or pinned.
Become member with Facebook Industry and Linkedin groups- After becoming member of such networks, you can also offer valuable advice and information to build relationships and hence drive traffic to your website.
Connect with traffic senders- You should try to connect yourself with all the bloggers and sources that send you existing traffic. As it may possible that they have any other source too, to promote your website and vice versa.
Ask well renowned bloggers to Guest Post on your website– when they write it then will definitely share it with their fans and this will bring a huge traffic to your website.
Blog comments response- Don't forget to give response to the comments on your blogs. This will help to grow personal relationships and will drive other commentars too, to comment on your blog.
Add blogs to top sources and Alltop – As already mentioned in our earlier posts top 15 sources to share your blog, huge traffic can be driven to your website. Other than that, Alltop is an aggregate of web content which receives content of all niches, submitting your blog to it will increase your chance to reach more people.
Contribute to the question answer websites- Start to contribute at question answer websites as like Yahoo answers and Quora for the questions that are relevant to your business niches.
Write quality response posts- Write posts that are controversial and attract more and more people, on the topic of your niches. Let the original poster and other people know about it. Through this way too, you get huge traffic to your website.
Contact an Influential blogger- After writing a research based high quality blog; make aware other influential bloggers in your niche about it. If they find your post worthy, then they just see how many backlinks you get.
Select Categories- Ensure that all the sharing of your website's content should be done under the correct relevant category. It not only helps you to do good quality SEO but also help other readers to find the relevant content faster.
Landmark Posts- Write posts that create long term authority posts that are actually garner links and attract visitors for a long time.
Blog commenting- You should comment on the industry blogs this will not only give you a new identity of an expert, but also drive people to your blogs and help in maintaining personal relationships.
Interview Influencers- Ask the interview influencers of your business niche, to share their experience on to your blog. This will make your website famous among the interview audience.
Share the blog post on Facebook- Share a short extract of your website blog post to Facebook. People read that small section and if they find it interesting, then they will definitely click on the post or blog to read through.
Share blog posts to Triberr- Share your blog post to the Triberr community website and connect with a community of your business niche.
Share post on social bookmarking websites- You should Share your post on the social bookmarking website, such as getpocket, instapaper, delicious etc.
Make Presentation and Submit them- You can make presentations and submit them to the slide websites such as slideshare, authorstream etc. This will give you a high quality backlink with a better platform to make the viewers understand about your Product and services in an effective way.
The above mentioned 40 ways are sure to drive huge traffic to your website. Just believe on offering and spreading quality work and you won't find any problem in managing your business.
If you like this post and wish to read useful posts similar to these, you may Subscribe us. Also if you own a website and need content for your website or a blog post like this, then you may have a look at our content writing services in India page where all details related to content writing, pricing etc. is mentioned.
You may also ask for free SEO audit of your website or reliable SEO services in India that are available at highly affordable prices. Mail at: [email protected]