Do not miss social media in your marketing strategy that you design.
Meet Your Customers On Social Media
To meet you customers, it is must to make use of social media. Adding the new customers, engaging the current customers, developing brand loyals and implementing ways to engage them via sweepstakes, polls, referral programs etc.

Let The Audience Get Word Out
Develop strong social network of your brand by simplifying the way to share and spread content in their channel via shareable videos and sharing buttons,
Thoughtful Minds, the Social Media Agency that assists its customers in creating and managing the social media marketing services. Here we handle your Instagram, Facebook, Linkedin, Twitter and Google Plus Accounts in order to create branding and visibility. In today's competitive market, the visibility on the social media networks cannot be ignored at all. This is the reason why we work on various channels of social media, e-marketing and ensure that our clients have the best presence within their niche and build more business relationships than their counterparts.Click below for the Best SMO packages in India that takes care of Facebook Likes, Twitter Followers, and whatnot..

For every businesses today, Social Media has the potential of tremendous opportunity in order to market the services and products. Our services of SMO will secure in augmenting attention along with active leads which on working can result into sales opportunities. Every industry has an urge for  social media optimisation company that can understand dynamics of such platforms to develop an awareness in regard to customer's products and services. We since years are into it with the in house experts  in handling dynamics of websites.
Our SMO services are not just effective but result oriented too. Here's an example of Facebook marketing Thoughtfulminds is doing: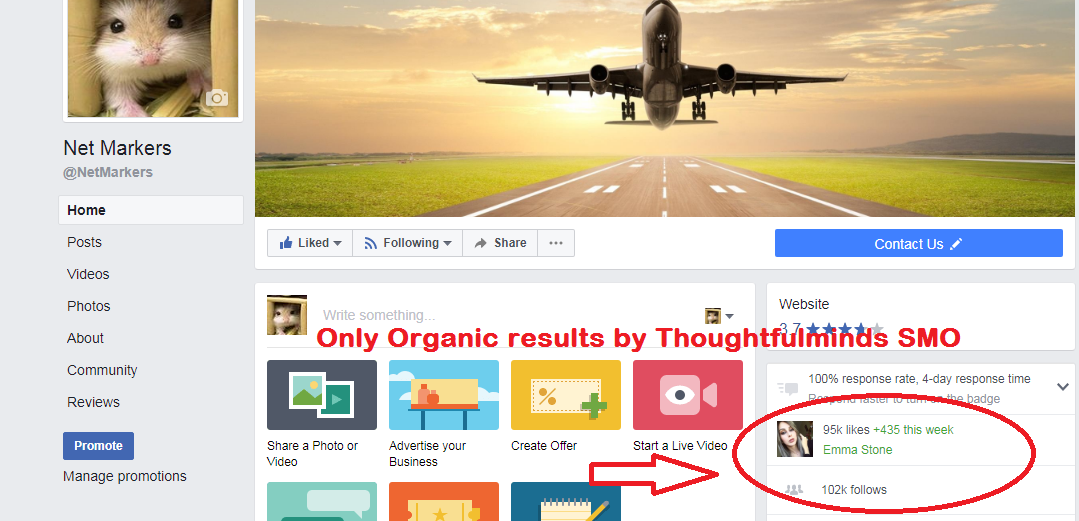 SMO is an inevitable part of online business promotion. It enables the reach of your brand to more number of people than you could ever imagine. When you reach for our services then you get benefited with some of the exclusive features like:
A targeted number of likes on premier social media websites like Facebook, and daily meaningful and resourceful tweets on Twitter.
Not having a Linked-In profile?? Well, that should not be a cause to worry about anymore! Our expert team will not only create optimal Linked-In profile, but also execute all the maintenance and update work for you.
Get benefited with the results within a period of 3 months.
Have you ever heard about a company that do social media updates on Sundays, holidays and weekends?? Well, we do! This is what keeps our clients miles ahead of competition. Here, we understand that SMO campaigns only work when reinforced with daily and timely updates. This is the reason why we even put our posts on holidays so that the maximum number of people can reach you at the right time.
We have the editors and the designers who are familiar with all the features of fresh image editing and using it to best impact for image optimization campaigns.
It is simply due to our expertise in the field that we are currently having a clientele of 400+ SMO clients. Our clientele for SEO services and social business services are totally separate than this.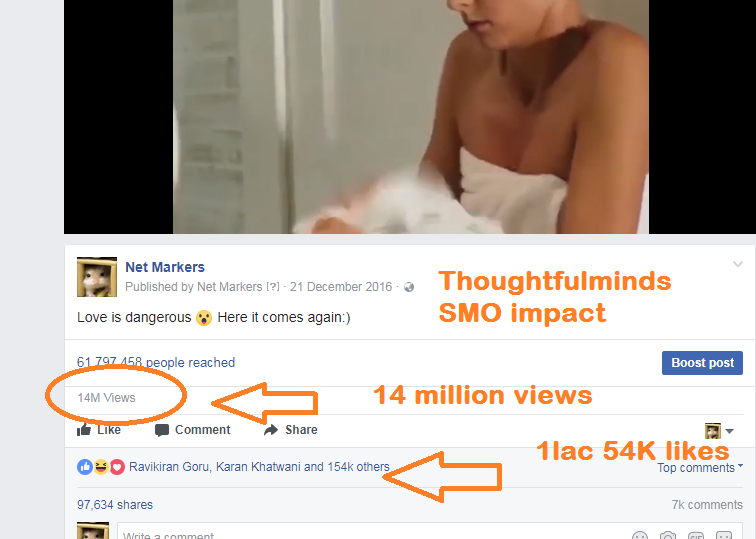 All you need to do is completely focused on your clients and leave the rest of the campaign to us.
What is included by this SMO agency?
| | | |
| --- | --- | --- |
| Social Media Audit | Build Your Audience | Engage with customers |
| Social Posting & Sharing | Social Media Advertising | Reporting |
Our Range
Developing strong presence on all our preferred social media platforms shall result very beneficial for business results. Our Social Media Agency in Jaipur, India includes following packages:
LinkedIn Marketing Services
Google Plus Marketing Services
YouTube Marketing Services
Instagram Marketing Services
Facebook Marketing Services
Twitter Marketing Services
Pinterest Marketing Services
Why Choose Thoughtful Minds for SMO services?
As a skilled team of Social Media Marketing we aim to foster various companies worldwide in augmenting huge followings and presence on social tools like Facebook, Twitter, Instagram, Linked In, Google Plus and much more.
Thoughtful Minds holds over ten years of experience, know how and knowledge that is required for up to minute SMO and SMM updates.
At Thoughtful Minds most affordable and best social media marketing packages are provided that matches the requirements of businesses.
With our result oriented SMO plan we drive the business of our customers towards increased sale.
Uninterrupted communication
In order to make online marketing campaign successful, communication plays an integral role. With the help of tracking system of campaign, project management and uninterrupted availability of support via instant mails and phones leads clients updated.
 Looking forward for opportunity to work for you!
Dedicated efforts and hard work of our customers is considered by us and we ensure that we bring the best results for you. Rather than just Social Media Agency we would partner along to enhance the social visibility.