When we talk about the education tourism of the international students, then would find their lifestyle to be much different (as well as challenging) in comparison to the native ones. It is primarily because they are expected to adjust to a new environment; physically, mentally, and psychologically. That is why, it is essential for the international students pursuing higher studies to learn the skills necessary to cope with the physical and emotional challenges associated with travelling, studying, and accommodating with the students belonging to different cultures and ethnicities. 
GET HELP INSTANTLY
Place your order to get best assignment help
(since 2006)
---
Introduction
The prima-facie goal of sharing this piece of information to help all students pursuing higher studies internationally to come across ten key skills which can make their academic pursuit on foreign soil far less bumpy. Here, we are going to throw some light over all the prerequisite skills that the students are expected to nurture, including communication and linguistic skills to the prolific adaptability and research skills.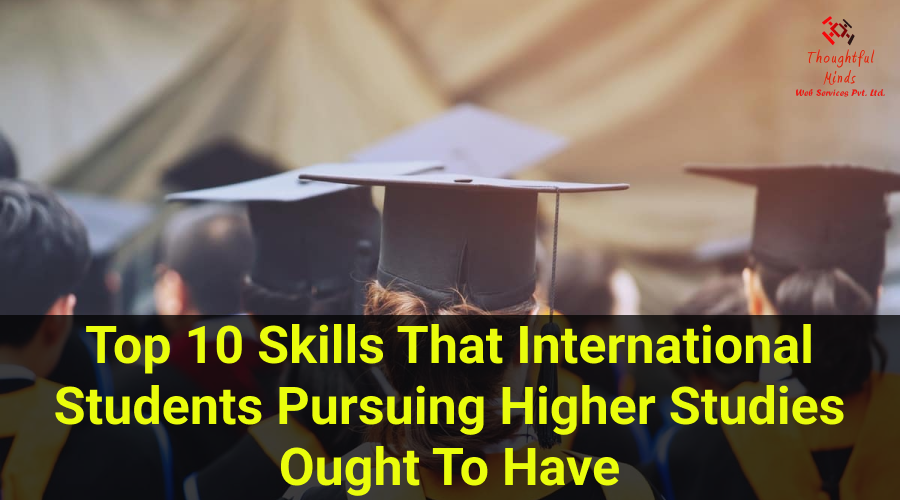 Are you in the early stages of admission to the dream foreign university but feeling stuck with the admission essay submission process? Well, get the most valuable tips straight from the experts by going through the below link –
Top 10 Skills that Foreign Students Pursuing Higher Studies Necessary to Possess
Let us look at the list of skills prepared by our experts and how seriously it can transform the lives of foreign students in a positive way.
Fluent Communication Skills:
Perhaps the most critical and important skill that any student should possess, smooth communication skills can help international students to easily connect with both peers and professors. While receiving the assignment help requests from international students at our agency, the most common reason due to which they hire our assignment experts is the lack of expertise over the English language.
Good communication skills on the foreign soil can easily help the student to break the ice and communicate freely to make new friends and easily adapt to the new environment. Our reserve nature in a new environment could make us fall behind in the class. Apart from that, in case we require some sort of guidance or assistance then we can communicate freely to let the person in front of us realise our present state. There have been instances where due to the lack of communication skills, students went into depression and eventually decided to quit their course. That is why, strong communication is an imperative skill that cannot be overlooked at all.
Cooperative Mindset:
To pursue higher studies, it is essential that the concerned foreign student functions in a collaborative environment. To successfully collaborate, it is crucial that the concerned student has the knack to cooperate with others. It is important to nurture this skill even before we commence the course. For the sake of overall inclusive learning, it is significant to focus on being cooperative instead of the competition. It can only be achieved by developing a cooperative environment towards the studies and the surroundings. Never hesitate to help a foreign student from a different cultural background to help him or her survive the new environment. It will always work as a blessing and somehow get rewarded in the future.
Linguistic Skills:
Most of the countries where education is promoted as an industry, we usually observe the presence of multi-lingual cultures. Here, it would be a prudent move for the student to develop certain linguistic skills and at least get familiar with the main language of that country. It will certainly help him or her to communicate at a faster pace with the others. If you unable to engage with the locals in their native language then there are chances that you might initially face isolation, or even discrimination. Having adequate command over the linguistic skills can play a decisive role in confidently pursuing your course on the foreign soil.
Honing Problem-solving Skills:
It is always suggestive to adopt a general problem-solving approach rather than mugging up bookish information. To successfully prepare oneself to become eligible to work in the industry, it is imperative for the students to hone their skills in different modules of different subjects existing in the curriculum. The inclusive learning is essential and that can easily be achieved by focussing on the problem-solving tactics associated with different topics and subjects.
The key secret of successfully solving the problems is to attend the assignments on the regular basis and try to submit them to perfection right on time. In case you are stuck with a particular topic or question due to lack of conceptual clarity, then never hesitate to seek the assignment writing services of a reputed agency like ours. Indeed, it is always a smart move to outsource the assigned task to experts and always achieve the most satisfactory results.
Let all your assignment problems get solved in a better and more professional way by paying the most nominal student-friendly fees ever. Reach out the below link to learn more:
Productivity:
If we have to define it in simple mathematical terms, then productivity is the ratio of the useful results to the net efforts invested. Higher productivity simply means generating more useful results with the investment of less time or effort. When as a foreign student you are pursuing your course in a particular college, institution, or university, it is important for you to adapt to the new settings and start delivering results in a quick succession of time. Remember, no one is going to wait for you merely because you are taking more time to adjust with the newly accessed environment. Besides, delivering faster results will always help you save time, which you can prudently invest to explore the city, meeting new people and understanding new cultures. It will always be going to be beneficial for you in the long run.
One of the core ways to enhance the productivity is to try to submit your course assignments on time. A good assignment service agency can prove to be very handy in one such situation, especially when you are looking for specialised assignment writing intervention in various assignment writing formats. These include your assignment writing requests related to case study help, essay help, coursework help, dissertation help, PowerPoint presentation help, research paper writing help, thesis help, etc. One can always feel free to get in touch to learn how we can help students to increase their impression and productivity across their campuses by saving both time and energy.
Effective Budgeting:
This skill is widely regarded as a lifesaver for most of the students pursuing foreign studies. Effective budgeting is all about jotting down all kinds of possible expenditures and then contrasting them with the budget that the concerned student can afford. The key objective of effective budgeting is to never cross the prescribed budget and save as much amount of money as feasible. Here, the basic rule of effective budgeting is 50-30-20 rule. Here, 50% of our budget is prescribed for the necessities, 30% of the budget expenditure should be on the desires, and the remaining 20% is advised to be saved for the future emergencies. As most of the international students pursue their dream on the foreign soil after bearing some sort of loan or debt, it is critical for them to draft a contingency plan that can help them maximise their savings and minimise their expenses. That is the reason why, effective budgeting is needed to be an essential part of their skill set.
Time Management Skill:
This skill is vital not only for the foreign students but also for all the individuals pursuing academic and professional lives. But when you are pursuing a course on the foreign soil then this skill set becomes even more decisive. It is imperative for you to become multi-tasking and deliver more results even with a constraint period. The lifestyle would be different, and the course curriculum shall also be distinct than your conventional studies. A proper schedule can play a pivotal role in helping you with academic life, but also with your much deserved personal and social lives as well. While utilizing the time more effectively to pen down your homework assignment, it's always a smarter move to outsource additional assignment burden to a credible agency online offering online assignment help.
Good Research Skills:
There are numerous courses to pursue internationally where the students are anticipated to display solid research skills. Indeed, simply spoon-feeding the course materials by the lecturers will not going to assure you a desirable job at the corporates. Good research skills can help you land a rewarding job in the field of finance, law, science and not to mention, the most demanding and techno-driven IT industries. Our assignment intervention is always going to help students understand how the genuine research is conducted. How the information is excavated, analysed, and cross-checked to leave no room for blunder whatsoever. Just have a glance at our work sample to realise how the research is done and how the referencing of the cited information is done, and you would realise the worth of this indispensable skill set.
Learn all about different research papers that are prevalent in more academic campuses even before writing one! Read the below article and stay ahead of others with better knowledge and conceptual clarity.
Integrity and Work Ethic:
Well, we all can agree to the fact that studying in the foreign land for the first time can turn out to become very tempting and not to mention, distracting for the young minds. That is the reason why, it is vital to bring in the necessary discipline to all the aspects of life even before filling the application form. Self-discipline can help a student to swiftly overcome the cultural shock and maintain a calm and steady progress without getting distracted in one way or the other.
Integrity and good work ethic will always help you to stay motivated and successfully tackle the challenges even through the darkest hours. This is one of the most decisive skill sets that you can easily learn from our paid assignment help services dedicated to the requirements of our foreign students. Our writers could only achieve such a feat by working with self-disciple and consistently submitting the perfect assignments as per the given instructions well within the assigned deadline.
Adaptability:
The amount of cultural shock that a student face while landing on the foreign soil might differ by the fact that what sort of person he or she is. But no one can deny the fact that each one of us would face it to a certain degree. To perform and deliver in studies up to the highest potential, it is essential for an international student to overcome this bulwark as soon as possible. Here, one needs to give the test of his or her adaptability skills to the utmost extent and it is suggestive to start planning for it as early as possible. Adaptability is one of the most formidable skill sets to overcome this mental blockade and prevent the initial impact of cultural shock spiralling out of control.
When we briefly go through the above list of skill sets, then we would find that each one has its own relevance in the life of an international student. But when you combine these set of skills as a whole, then you will find it to propel your level in academics to a greater height.
Conclusion
Our decision to travel internationally begins not when we fill up the application form but when we prepare ourselves with the necessary skill sets that have the potential to make or break our prospects on the foreign soil. It is always a good move to focus on our personality development by considering the core areas that demand improvement and hire the services of the experts that can help you in the same regard. For instance, the online homework help that is offered by our in-house professionals can help you hone your communication skills in the English language, as well as problem solving, productivity, time management and research skills.
As an international student chasing your academic and career aspirations on a foreign land, specially tailored assignment help for the foreign students is a must have service. Reach Thoughtful Minds to know more!