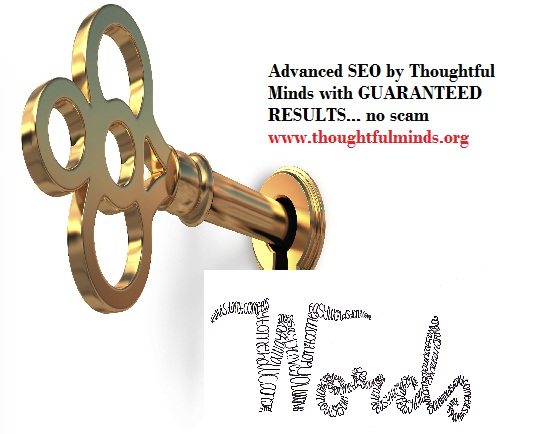 SEO or Search Engine Optimization is something that has both evens and odds and from time to time people have carried different opinions for this technique. I, out of my own experience, have seen the results and came to a conclusion, that this technique is effective, but not by using traditional link building methods or link exchange or submissions. Rather the success lies somewhere else. Let me share the secret here!
If you check the ranking of Thoughtful Minds on a number of keywords, related to content, you will see it's doing quite well. However, if you look at the Alexa, you will see the backlinks are mere 40 or even lesser. But then why the website is ranking?
In addition to that, you will see the website has never used any paid form of advertising to score ranking on top position. Then what kind of SEO we do? Do we rely on link exchange or link building? Well, if that would be the case, then there's nothing to reveal; you know that already, right? Yes!
SEO can work without link building or other SEO tools
Over the span of 13 years, I analysed, SEO is artificial promotion and offers only temporary results. May be that's the reason why the ranking of hundreds of websites keep on changing, while this website maintain its positioning on particular keywords. Not just particular keywords, rather the keywords keep on increasing to offer more visitors and traffic. How?
The answer lies with reputation management, top notch level of marketing and quality content writing services. Yes, though it may sound stupid to you, but the fact is content plays a crucial role in bringing a website up in ranking on particular keywords. Along with that, if reputation management is proper, then it tend to promote a website genuinely. This is the aspect ignored by lot many SEO experts and that's the reason they fail to deliver results.
What is actual SEO?
The actual Search Engine Optimization method says build good reputation, offer quality content writing and then promote the same in a proper manner. Yes, matters not you submit thousands of articles for the sake of link, it's better to just write one original content and the result is going to be same or even better than the former.
Content writing but persistent
Content writing or blogging can only offer results when it is continuous. If you keep on posting quality blogs or useful information, people are going to read it and keep on coming. This is going to increase traffic, inform search engines there's actually something good and as a result, you will see improvements in your ranking. But again, here you need to take care to offer quality content. If the content is informative, then only you can expect good results. So, try improving the content on your website, plan regular blogs and see the results. If you are not good with writing and wish to know about the source to get then you may try these content writing services that generate leads. You may ask for SEO content for your webpage or regular blogs to keep your users or prospective customers engaged.
Order SEO services that are 100% result oriented
If you wish to get rid of all the tensions and want to see your website up in ranking on particular keywords without fail, then you may opt for result oriented best SEO services in India offered by Thoughtful Minds that is fully based on content.