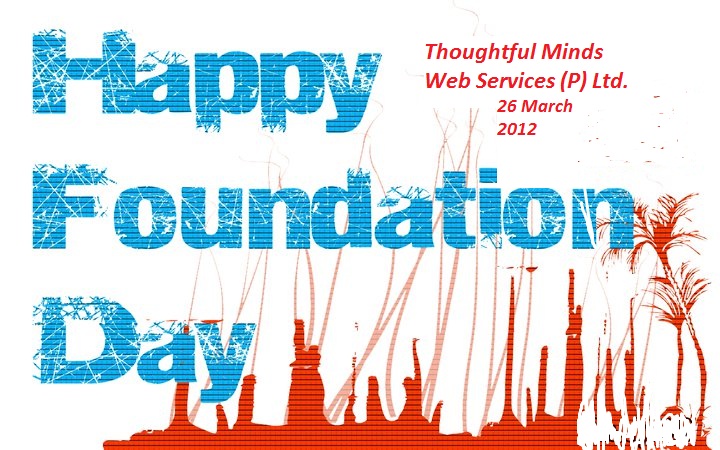 Thoughtful Minds Web Services (P) Ltd. on the eve of its 4th foundation day today i.e. 26 March 2012 congratulates all its staff members and offer thanks to all its clients who have made it possible to make this small company a renowned name today.
With every successful year, something new has been introduced and to continue the trend, this time Thoughtful Minds is stepping into the Branding and Publicity world. We are now going to start offline publicity as well in addition to online promotion(SEO).
In branding and publicity we will be offering product packaging concept, appealing punch lines to attract attention, hoardings, banners, brochures, and every thing that can give any business house a good identity.
Once again thanks goes to all ex-employees of Thoughtful Minds who also have contributed a lot to make this small venture a huge success and straight message to all current employee to continue with their devotion and hard work as still we have a long way to go!
How to find the best PHP training in Jaipur?
Hello everybody!
Are you looking for creating a career in designing through PHP? Have you been searching a provider that can offer really useful PHP training by a private limited company? If your answer is yes then you need not worry! Today we bring upon for you an opportunity to introduce the best option for being a masters in PHP by the well facilitated PHP training.
In today's competitive world it is essential to have complete knowledge of the subject to survive and beat the competition. Keeping this in mind, Thoughtful Minds Web Services Pvt. Ltd.is an out spelled source for PHP training. With excellent trainers and practical knowledge it offers a complete php training. Peculiarly it emphasizes upon giving the best practical knowledge along with class room training. The best part of this PHP training center Jaipur is its prospects for allowing live on websites and making things easier.
If you are really want best and affordable PHP training course then just visit Thoughtful Minds, topmost as web design Jaipur company. It believes in converting students to professionals. Other than this, what makes it apart from other PHP training Jaipur institutes is the chance to get PHP jobs on completion of the PHP course. If you match with the requirements of job opening, you will be given a chance to show your potential.
Course details:
Time duration: 3 Month
Fees: Rs. 7ooo p.m.
* terms and conditions apply.
How to apply ?
The trainee need to send the C.V. and thereby appear for test. On being selected, the training shall initiate. Also an additional benefit is given to those who secure better position in the test being conducted before selection for training.
Why Thoughtful Minds Web Services Pvt. Ltd. for PHP training in Jaipur ?
It also give you a platform to grab a PHP job in an IT company. If you qualify the entrance test then you can be absorbed in the company itself.
The question How to find the best PHP training in Jaipur has now resolved. So grab the chance and let your career reach heights. For more information, just visit, www.thoughtfulminds.org now !