CLINICAL INTERVENTION FOR NOVEL COVID-19: THE TREATMENT
The dramatic sequence of events has led the entire world come to a halt. The lethal Coronavirus upsurge has in just a matter of months has clenched the globe and made it go down their knees. It has become the fifth endemic causing the humans to go down and sick. It has rapidly spread to 184 countries and territories and has taken away numerous lives and still counting. This pandemic has made many healthcare organizations to delve in deeply for conducting researches, devising testing kits, vaccines, treatments for the deadly virus.
The epicentre for the novel COVID-19 virus is Wuhan, China, where this virus showed first of its effects. It is believed to have originated in the animal food market of Wuhan, the host being the bats. However, there is also a belief that an intermediary carrier is a pangolin (The Guardian) who passed on the virus from bats to humans. Nevertheless, the exact pinning down of source is yet to be confirmed.
GET HELP INSTANTLY
Place your order to get best assignment help
(since 2006)
---
What is Coronavirus?
Coronavirus hails from a family of viruses that cause flu-like illness. Some others can infect more severely causing Middle East Respiratory Syndrome (MERS) or Severe Acute Respiratory Syndrome (SARS). Coronavirus, when seen under the microscope look like a crown of spikes.
Source: Bloomberg
Source: New England Journal
Microscopic image from a Coronavirus infected patient having pneumonia
Some of these Coronaviruses are restricted to the animal boundaries, but, some severe ones are likely to originate in an animal and cross the human-animal boundary to infect humans and further capable of crossing all the human boundaries and spreading like a wild fire.
There are four common categories/genes of Coronavirus, being:
Alpha Coronavirus
Beta Coronavirus
Gamma Coronavirus
Delta Coronavirus
Some of the identified human coronaviruses are:-
229E (alpha Coronavirus)
NL63 (alpha Coronavirus)
OC43 (beta Coronavirus)
HKU1 (beta Coronavirus)
The first such virus infecting humans was found in 1960. After that, a severe acute respiratory syndrome or SARS-CoV was identified in 2003 after the outbreak of this disease, causing upper and lower respiratory tract infections. Further, in 2012, MERS-CoV was pinned down, but less human to human transmission cases were reported.
Recently, in December 2019, flu like diseases and symptoms were reported in Wuhan which gained spike in very less period of time. Later that month, SARS-CoV-2 was identified as a novel Coronavirus, popularly known as COVID-19 or 2019nCOV.
MAPPING OF THE DISEASE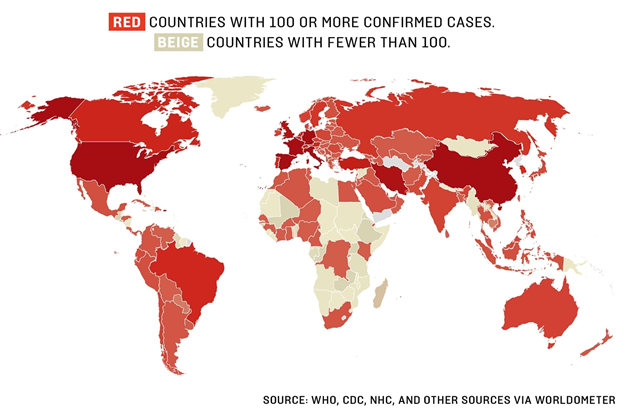 Source: bbc.com
The United States is the worst affected by the outbreak with total 4,31,331 cases and 14,786 deaths. The second in line is Spain with 1,46,690 cases and 14,555 deaths up till now. Third in line comes Italy with 1,39,422 cases and 17,669 deaths, the highest death toll up till now. China, the epicentre or the host lies with 82,867 cases and 3,339 deaths.
These numbers are constantly spiking up as the disease is becoming more malignant. The figures are still in the making as new cases from the corners of the world are still being registered.
WHAT ARE THE SYMPTOMS?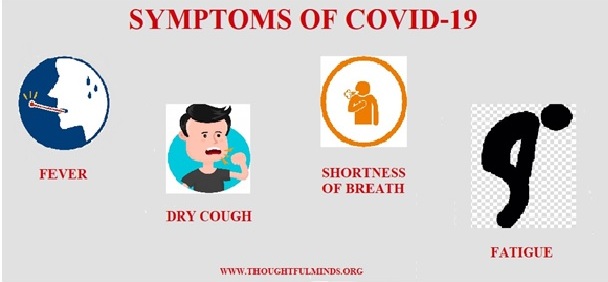 If a person is infected of the virus, they are likely to show the common symptoms similar to other respiratory disorders. They would have fever (temperature), dry cough, fatigue, tiredness and breathlessness. The infected ones are also likely to display pneumonia as found out by a study conducted in China of 89 coronavirus infected patients. Their CT scans were done which exhibited pneumonia in all of the 89 patients (Qin, Qiu, et al, 2020)
Severity in patients can also result in kidney failures and ultimately, death. Some people can also reflect no symptoms and just be the carriers of the virus. They can pass on the virus to others through touching, coughing, sneezing or any other way of contact and themselves can show no symptoms at all. The incubation period of the virus is of 14 days after which a person, if infected, can exhibit symptoms.
The above study concluded that the virus can lead to severe acute respiratory syndrome, wherein the patients would have to be put on ventilators to save their life; are can consequently result in increasing mortality.
CLINICAL INTERVENTIONS
COVID-19 is a novel virus which has just recently been pinned down. For this very reason, the virus still has no treatment. Only supportive interventions and clinical care is being provided to the patients for their treatment. The medical researchers are completely indulged in devising anti-viral vaccines and medicines for killing the virus. The researchers are studying about the origin, spreading, treatment methods and all other aspects to find the exact treatment against this virus.
Many researchers have also focused on modifying the existing drugs and vaccines available so that immediate action can be taken. The advantage lies in the fact that their side effects are already known to the doctors. They may not prove to be successful, but, can definitely treat the condition from becoming severely unwell (Zhang).
Researchers and health organizations from all over the world are collaborating to be able to contain this virus and bring down the mortality rates. The nations from all over the world are contributing with the necessary data and resources to fulfil the common hope of emerging out of this dark phase victoriously. Until then, the health care officials are only providing supportive clinical treatments for the symptoms.
However, trials and testing of some newly developed medicines and vaccines are also being conducted by the health care officials.
The first of the vaccine is ready to go under trials in China by April end (Clinicaltrialsarena.com)
There are approximately 140-150 vaccines and drugs ready to hit the trials all across the globe. 11 of them are already under trials (Informa Pharma Intelligence).
But, for humans to be tested with these vaccines, it would take until September, i.e. mid summers. Even after that, if the vaccine succeeds in defeating the virus, manufacturing large doses will take enough time to meet the worldwide requirements.
According to some researchers, a Cambridge company named Moderna Inc. has with collective efforts of the government researchers has begun testing in humans, keeping all the safety standards into consideration (livemint.com)
Other clinical researches and testing for treatments are still going on with numerable ones in the pipeline.
HOW TO TAKE CARE OF YOURSELF DURING CORONAVIRUS OUTRAGE
The World Health Organization have stated out some guidelines for personal protection and care against Coronavirus:-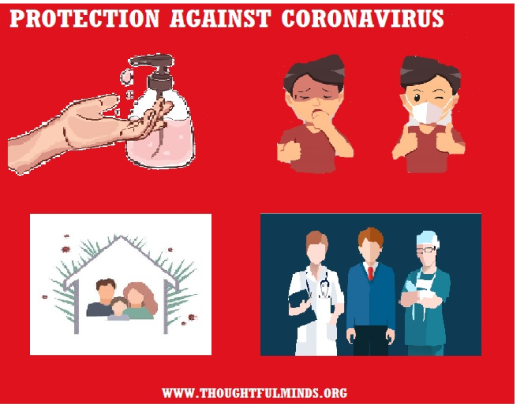 Wash your hands with soap and water, preferably an alcohol based one.
Care to cover your mouth while sneezing or coughing.
Avoid going out and gathering in crowds. Stay at home.
If you experience any symptoms, visit a doctor, without any further delay and honestly tell them about your whereabouts and travel history, if any.
Avoid consuming any animal products. Don't eat non-vegetarian food.
Additionally, please make sure to follow social distancing (6ft. is recommended) and move out of the house only if very necessary.
REFERENCES
Duddu, P., 2020. Coronavirus Outbreak: Top Coronavirus Drugs And Vaccines In Development. [online] Clinical Trials Arena. Available at: <https://www.clinicaltrialsarena.com/analysis/coronavirus-mers-cov-drugs/> [Accessed 9 April 2020].
‌PTI. "Researchers Have Identified Potential Target for Antiviral Treatment for COVID-19." The Economic Times, Economic Times, 8 Apr. 2020, economictimes.indiatimes.com/news/international/world-news/researchers-have-identified-potential-target-for-antiviral-treatment-for-covid-19/articleshow/75041596.cms. Accessed 9 Apr. 2020.
Qin, X., Qiu, S., Yuan, Y., Zong, Y., Tuo, Z., Li, J. and Liu, J., 2020. Clinical Characteristics And Treatment Of Patients Infected With COVID-19 In Shishou, China. [online] SSRN. Available at: <https://papers.ssrn.com/sol3/papers.cfm?abstract_id=3541147&utm_source=EC&utm_medium=Connect> [Accessed 9 April 2020].
Readfearn, Graham. "How Did Coronavirus Start and Where Did It Come from? Was It Really Wuhan's Animal Market?" The Guardian, The Guardian, 9 Apr. 2020, www.theguardian.com/world/2020/apr/09/how-did-the-coronavirus-start-where-did-it-come-from-how-did-it-spread-humans-was-it-really-bats-pangolins-wuhan-animal-market#maincontent. Accessed 9 Apr. 2020.
‌The Visual and Data Journalism Team. "China Coronavirus: A Visual Guide to the Outbreak." BBC News, 29 Jan. 2020, bbc.com/news/world-51235105.
"Inside the Race to Find a Coronavirus Cure." Livemint, Livemint, 8 Apr. 2020, www.livemint.com/news/world/inside-the-race-to-find-a-coronavirus-cure-11586334790668.html. Accessed 9 Apr. 2020.
"Wuhan Coronavirus Outbreak: 10 Things You Need to Know." OnHealth, OnHealth, 5 Feb. 2020, www.onhealth.com/content/1/2019-ncov_wuhan_coronavirus_outbreak.
Zhang, Sarah. "The Coronavirus's Weak Spots." The Atlantic, The Atlantic, 8 Apr. 2020, www.theatlantic.com/science/archive/2020/04/what-coronavirus-drug-will-look-like/609661/.
The above research paper/ article on CLINICAL INTERVENTION FOR NOVEL COVID-19: THE TREATMENT using Harvard style of referencing is to help people know more about Coronavirus and researches going on it. As a leading academic help provider in India, we feel this research paper is likely to help students and scholars know more about the symptoms, precautions and treatment of Covid 19. If you require any assignment help then mail us at [email protected].