Google My Business added with new features on 6 September 2017: First Announcement by Thoughtful Minds- Best Digital Marketing Company in Jaipur, India
Latest Google news or update for 2017 is here and it just came, noticed and announced by Thoughtful Minds CEO, Mr. Swadesh Rohilla as soon as he noticed 10 min before. Even the first ever post is made by him on Google My Business with the screenshot and the time i.e. at 9:20 P.M. Day Wednesday on 6th October 2017.
What's new with Google My Business?
The Announcement can be seen as a good attempt by Google to help Business owners add value and branding for their products. The new feature allows business owners add posts showcasing what's new, and allowing them create an event. The feature also allows putting image to make the post or event even more effective.
The post or event can be created and can be seen at the bottom of Google Map just above the reviews. It is going to work like a press release as it is an announcement by the business owner which can only be done by the owner himself.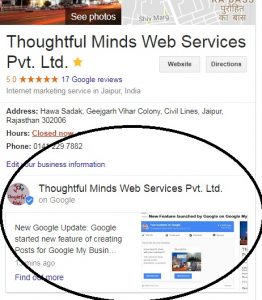 Today when Social Media is on its rage, Google is also coming up with something new every day be it Google Apps for video conferencing or this update helping businesses getting limelight.
It is important to note that the first post and blog is published by Thoughtful Minds that holds very impressive position in all the segments it operates. Moreover, it is not the first occasion when any announcement is made by this top digital marketing agency in India. Earlier also, the CEO of the company, Mr. Swadesh Rohilla made announcements of the Google updates that helped a number of SEO professionals and business owners took measures as and when required.
Counted among the best 10 SEO and SMO companies not just in Jaipur rather India, Thoughtful Minds has the best reputation in the industry. It is the only company that started with the content writing services 11 years before and is still holding the best position in this segment along with putting a great impact as leaders in website development companies in Jaipur, India. The company follows all Google updates and circulates them to help others understand and rank well on the search engine rankings.
If you also wish to know about the recent Google updates then subscribe the YouTube channel of this leading digital marketing company or follow its blog.
You may Follow Thoughtfulminds on Twitter and get in touch at Facebook as well by Liking Thoughtfulminds on Facebook. So, lets enjoy this new feature and make a great impact.
Website not ranking well? Not happy with your Social presence? Mail us your website url and get a free website check.