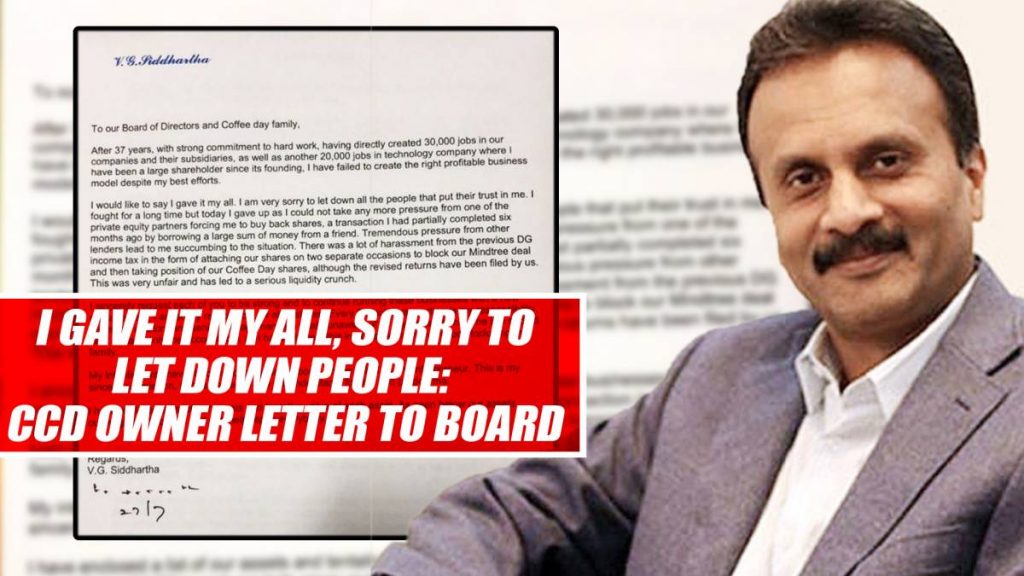 One of the hottest stories in the world of Startup was Café Coffee Day but it ends at a very sad and untimely note (from the founder's perspective)
V.G. Siddhartha got inspired by the owner of Tchibo during a chat which is a German Coffee chain and at that moment he decided to bring same concept in India and opened his chain of cafes in the entire country. For Indians it was totally a new concept who doesn't know about the culture of Cappuccinos. The first outlet of Café Coffee Day was opened in Bangalore in 1994 in Brigade Road with an awesome tag line "A lot can happen over a cup of coffee".
CCD is the largest chain of coffee outlet in India where tea drinkers are more. It has around 1750 cafes in approximately 200 cities and in overseas cities also like Prague, Kuala Lumpur & Vienna. In the year 2015 it became public company.
Today CCD sells around seven thousand tons of branded coffee and it exports around 28,000 tons. It sells 2,000 tons of coffee in the country itself. On an estimation basis every week nearly forty thousand to fifty thousand visitors visit the café. The turnover of the business is approximately $210 million with a staff of 40,000+. The net worth of café day founder is $1.3 billion.
Then what's gone wrong in this business and what everyone should learn from this incident:
1. This world is based on VUCA concept which means volatile, uncertain, complex and ambiguous. Every business has to face some challenges and may fall from height. There are many examples of big business ventures which are on peak at some time and today they have become examples of failure. Anil Ambani's net worth has fallen down to a large extent, Vodafone Idea also face major loss in the last quarter, same happen with Tata Motors, Yes bank and many other ventures. But being as a CEO or business owner you don't need to take things personally. You are the mentor of the business and your duty is to do best for your organization and if it in some difficulty you are required to face the situations and bring out your organization from that situation.
Lesson: Never take things personally and always remain positive so that best solutions can be found out.
2. At the top it is lonely: It is a well known fact that CEO or business owner has limited people with whom they can confide. So it is very important that there are some people in our life with whom we can share problems with comfort.
Lesson: Always talk to your friends and family as they are your support system and will give best solution.
3. Find out 'life coach': A life coach is very important to have in life as it not only helps you in finding the solutions of the problems but also help in staying positive and calm. It gives you solution to have a balanced life. They help in removing negative thoughts from the mind. Lesson: If Satya Nadella, Larry or Bill Gates has coaches in their life then why not you?
4. Meditation, Affirmation or Visualization: Practicing of meditation really helps and gives a positive effect on life. Meditation brings positive thoughts and connects your soul with the Universe. It helps a human to control his emotions. If you practice visualization and affirmation twice a day it controls the mind and brings positive thoughts to achieve your targets.
Lesson: Make your routine to practice meditation, affirmation and visualization twice a day to remain positive.
5. Attitude towards gratitude: It is very important that you should be thankful for having air, water, food, friends, and family and for everything. Make a focus that what you have and many people don't have that.
Lesson: Be grateful for the things you have in your life as millions of people only dream for such things and life
6. Start forming a Mastermind Group: There may be chances that group of intelligent people cannot be part of your business but can come together to discuss the problems if any individual is facing and can give best solution to overcome from that problem. Many famous scientists like Thomas Edison, Newton were members of the 'mastermind groups' which has become a reason of their success.
Lesson: Everyone should have a group of 6-8 intelligent people to form a 'mastermind group' and can meet every fortnight and have a discussion to solve each other problems.
It is a well known fact that in country like India person not only faces business problems but also goes through political and judicial problems which is very stressful. Vijay Mallaya Tweeted:
VG Siddhartha problem was like me. Excellent human and a brilliant entrepreneur. I am very sad with the contents of his letter. See what government agencies and banks are doing with me being I have offered them of full repayment.
There is an element of truth that Siddhartha was well connected with politicians still he was not able to cope with the pressure from Income Tax officials and different lenders.
@anandmahindra tweeted, "I did not know him & have no knowledge of his financial circumstances. I only know that entrepreneurs must not allow business failure to destroy their self-esteem. That will bring about the death of entrepreneurship".
We all should learn lesson from Siddhartha tragedy and remain positive in such situations as entrepreneurs need to succeed not die!
The objective of writing this article is not to showcase we are an article writing agency, rather to help people understand life is not about losing the battle, rather facing it with full strength.