How to write content for Affiliate Marketing that sells and gets commission?
Here's an example to help you know how to write affiliate content for your affiliate website. Remember to go through every detail of the article to help you understand.
Infographic showing how to write affiliate content that gets good commission:
Affiliate Content Must have Best Reviews
It's good to take as many products as possible
With good points, talk about bad points too
Put Information in Table
100% original affiliate content must be there
Proper research must be there
Include all features in points
BEST HAMMER DRILL FOR CONCRETE & MASONRY
Drilling through concrete, dense and hard surfaces can be really taxing, especially with concrete being the hardest of them all. However, a good hammer drill can reduce your stress and burn-out and easily help you drill through those stubborn building materials. Now, finding the right kind of hammer drill for your application is very significant which we understand very well. Due to this very reason, we have came forward with this blog which will rightfully hold your hands and bring you out of the confusion, consequently, helping you identify just the best hammer drill for concrete, masonry and other materials.
Now, let's dive in deeper into the article with upcoming five best recommendations stated and wisely backed with the suitable rational for the same.
Before you proceed, here's a
 VIDEO ON HOW TO MAKE YOUR AFFILIATE WEBSITE PROFITABLE 
Let's Start with Affiliate Article now to understand How to write Affiliate content that sells and may help you earn good money during Covid 19.
DEWALT 20V MAX XR HAMMER DRILL KIT, BRUSHLESS, 3-SPEED, TOOL ONLY (DCD996B) (BEST POWERFUL HAMMER DRILL)
This Dewalt hammer drill is undoubtedly the most powerful cordless, battery backed version of a hammer drill one can own. It flaunts a brushless motor having a good run time, functioning at high speeds for drilling into concrete, masonry and other building materials. It boasts of a substantial chuck size and has a long battery backup. Minimum heat is generated while using this drill, even if for a prolonged period. Also, this hammer drill is very comfortably designed to provide a balanced grip and hold while drilling.
Features:
Design: The drill is ergonomically designed, making it very comfortable to work with throughout the day.
Torque: The torque is instant and impressive with 3 speed controls to choose from based on your needs.
Chuck: There is a 1/2" metal chuck present which provides an outstanding grip to the bits.
Speed function: 3 controls are present to choose from which makes different applications possible at varying speeds.
Shut-off: This function allows the drill to shut down and save the battery for extra work in darker areas.
LED lights: The LED lights illuminate in 3 modes to provide light for working in darker or less illuminated spaces.
Durability: The unit is constructed with superior quality products which provide a longer support.
| | |
| --- | --- |
| PROS | CONS |
| Offers more control in terms of speed | Speed adjustor needs a little alteration |
| Metal chuck provides a strong grip for bits | The forward and reverse switches may face issues sometimes |
| Switches are sealed making them resist the dust present in the environment |   |
| LED allows working in darker spaces |   |
| No hassle of a cord |   |
| Lesser heat and vibrations are generated |   |
Expert Note- With a powerful drill as this, it can be subjected to versatile uses, working excellently on high speeds and precision. It can be used for heavy usage as well.
Include the AMAZON Link here.
BOSCH 11255VSR BULLDOG XTREME – 8 AMP 1 INCH CORDED VARIABLE SPEED SDS-PLUS CONCRETE/MASONRY ROTARY HAMMER POWER DRILL WITH CARRYING CASE, BLUE (BEST USER-FRIENDLY HAMMER DRILL)
This bulldog from Bosch is a rotary hammer drill coming in a multi-function style which enables the user to switch between hammer mode, rotation mode and rotary hammer mode. Switching the bits for proper functioning is not a time-taking chore at hand. This corded version runs with electricity. It has a 4.8 Amp motor drilling with just the right power to drill in through concrete, mortar and other dense building materials.
Features:
Operation: 3 functions can be switched smoothly. The hammer drill can be used as per the suitability and task at hand.
Rotation: Both clockwise and anti-clockwise rotations are possible with this drill with just the needed torque and speed.
Trigger: The trigger lets the user control the speed of rotations precisely.
Chuck: The chuck is made up of solid and strong and durable material.
Vibrations: The vibrations that are generated are smartly regulated in 2 steps-impact mechanism and brought down with damp rubber materials in the handle.
D-handle: The handle is D-shaped and ergonomically designed for maximum sturdy grip.
| | |
| --- | --- |
| PROS | CONS |
| Vibrations are controlled and brought down | Issues with handling the trigger might be faced |
| Smooth switching between 3 functions of the drill | Bits might need replacement after a certain period of time |
| The unit is not heavy |   |
| Does not heat up at prolonged use |   |
| Vario-lock feature enables locking of chisel into suitable angle |   |
| Hook is present for storage of the drill |   |
Expert Note- This drill is just the right option for both home or DIYers and professional contractors. It is capable of giving a satisfactory performance for both the applications due to its versatility and multi-functioning capacities.
Include the Amazon Affiliate Link here
SKIL 6445-04 7.0 AMP 1/2 IN. HAMMER DRILL (BEST COMPACT HAMMER DRILL)
This corded hammer drill from Skil houses a 7.0 Amp motor backed by 120 Volt power for drilling up into concrete, masonry, bricks, wood, etc. This sturdy and corded electrically powered equipment is applicable for light or medium duty tasks. The speed of the drill can be precisely controlled with the trigger and the suitable one can be locked up for an undisturbed usage. Many parts of this frame are constructed of metal, making it more durable. It also houses an auxiliary handle which enables precise drilling into surfaces.
Let us have a look at its features.
Features:
Chuck: The chuck is of ½" keyed mechanism which can easily hold up larger bits.
Build: The frame is constructed of solid and durable materials, compactly curated and easy to carry around for your job.
Speed control: It owns a well-calibrated speed control trigger which allows locking the one suitable for your needs.
Side handle: There is a side handle which assists in providing a comfortable grip to the user. Its reversibility makes it easy to use for even the left handed ones.
Weight: This hammer drill is light in weight, with only 7lbs. It is also very hassling free to carry it around.
Drilling: It has a plastic handle that can be adjusted to regulate the 360 degree rotations.
| | |
| --- | --- |
| PROS | CONS |
| The side handle is reversible making it easy to use for left hander users as well | Not suitable for heavy industrial usage |
| Speed trigger with lock mechanism enables undisturbed operation | Chuck might get loosened at times |
| Auxiliary handle provides better precision at drilling |   |
| Curved handle for a secure grip |   |
| Produces lesser vibrations keeping the wrists safe from being twisted or stressed |   |
Expert Note- This hammer drill is not ideal for serious commercial or industrial usage as it is engineered for carrying out light to medium duty tasks. However, it is recommended to purchase this product if your use is only limited to some light DIY projects or applications.
Include the Amazon Affiliate Link here
HILTEX 10513 1-1/2 INCH SDS ROTARY HAMMER DRILL | INCLUDES DEMOLITION BITS, FLAT AND POINT CHISELS (BEST HAMMER DRILL FOR THE MONEY)
This compact rotary hammer drill from Hiltex is just the right tool making drilling into various surfaces like concrete, steel, masonry and bricks possible. There rests a 1000 watt motor providing enough drilling for meeting up your construction needs. Hiltex hammer drill has 3 modes in which it can be used, being, the drill mode, hammer mode and the hammer drill mode. One mode based on the job at hand can be chosen and operated while experiencing a good performance. The unit tends to provide a lot of control to the user for a comfortable application.
Features:
Functionality: The drill can function in 3 modes being the drill only mode, hammer only mode or the hammer drill mode.
Rotations: It can generate 360 degree rotations for an improved drilling.
Handle: There is an auxiliary handle present for providing a better grip and therefore, functionality. Grip is also textured to prevent slippage of the tool.
Speed control: There is a feature of 6 controls of speed for taking care of that extra accuracy required for the projects.
Configuration: The impact and the rotation speed can be easily regulated for a better control over the unit and the output.
Weight: The weight of the unit is heavy.
| | |
| --- | --- |
| PROS | CONS |
| 360 degree swivel action is possible | Not suitable for heavy industrial usage |
| Auxiliary handle assists in comfortable grip | SDS chisels may not be compatible to the unit |
| Six speed settings are used to choose one from for a flexible output in work |   |
| The texture on the handle eliminates slippage of the unit while in operation |   |
| Versatile application is possible with good efficiency |   |
Expert Note- This driller can provide maximum comfort and control over the unit while using it. It performs exceedingly well in DIYs and home projects.
DEWALT 20V MAX SDS ROTARY HAMMER DRILL, TOOL ONLY (BEST DURABLE ROTARY HAMMER DRILL)
This drill from Dewalt is a durable tool having a brushless motor which ultimately enables the safety and brings down the torque reactions. This high powered drill is smartly engineered to ensure an impactful performance. This hammer also comprises of a no-load speed. This cordless version gives out 4,600 blows in a minute. Being a cordless version, the cord has no role to play in it, but is equally powered. This product is not really up with heavy industrial usage.
Features:
Speed: The speed can be triggered and controlled for continuous operation.
Active Vibration Control: This feature controls and regulates the vibrations that are generated from the operation of the unit. It saves the nerves and wrists from damage or twisting, respectively.
Utility hook: The hook makes the unit very clear and conveniently stored.
Impact energy: The impact energy of 2.1 joules is provided by this unit.
Design: The design of the drill is ergonomically developed for providing a grip of ease and a better drilling experience.
| | |
| --- | --- |
| PROS | CONS |
| The presence of clutch controls and regulates high torque reactions | Battery is a separate purchase |
| Active vibration control absorbs the unwanted high vibrations | The chipping/hammer section delivers a lack of power |
| Convenient storage with the utility hook |   |
| Brushless motor gives a longer running time |   |
| The unit is light and weight and easy to operate |   |
Expert Note- The brushless motor makes this unit provide a longer running time which ultimately makes it able to provide a longer support. Also, the arms are not strained with this unit due to minimizing of unwanted high vibrations, making it smoother for you to drill through concrete, masonry, wood or any other material.
THINGS TO CHECK BEFORE BUYING A HAMMER DRILL
Currently, there are many brands manufacturing contenders in the same category, all trying to integrate the best features and specifications in the drill. But, identifying that one drill for your suitability can be a baffling process.
So, to help you reduce the confusion, we have listed down some essential considerations you need to pay attention to, think of and check before bringing one to your house.
Source of power:
The hammer drill can be corded, i.e. electrically powered or cordless- battery powered. Needless to say, the cordless ones save a lot of time and effort and cuts down on handling the tangled cord mess and are a lot more portable.
On the other hand, the corded ones need to always have a power plug nearby for it to power on up. Undoubtedly, the electric ones are more powerful compared to the other half. So, choose wisely based on your needs.
Motor:
5-8 Amp motor can effortlessly do for light duty applications. Higher powered motors should be used for large scale industrial usage.
Torque and speed:
Higher torque ones drill more forcefully and generate substantial blows to concrete and other dense materials. The speed depends on the number of rotations per minute. So, higher Rpm runs at a faster speed and vice-versa for both. However, the corded ones drill faster than their counterparts. So, there, choose smartly, based on the surface you are drilling.
Chuck: Chuck is the space where drilling bit is attached. The size of the chuck is what you should consider. There are keyed or keyless chucks available. Keyless chuck means that no tool is required for handling it. There are different sizes of chucks existing in the market. All you need to do is, pick the kind most suitable for you.
Care to consider these points before paying the money for any kind and then regret. Because, why do so when you know what you need to think of and check carefully.
Enjoy the drill!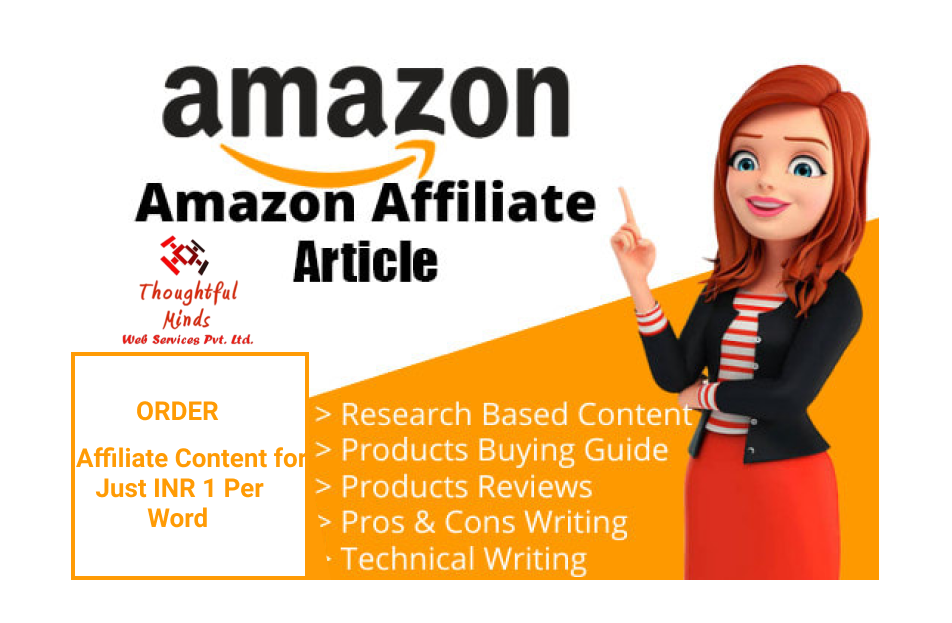 Do You Want Best Content For Amazon Affiliate Marketing Like Above?
Let Expert Content Writers from Thoughtful Minds do the task for you. The above written is just an example to help you know our expertise in offering affiliate marketing content writing services. If you want Affiliate content for your website, then mail us your requirements.
What Is The Price Of Affiliate Marketing Article?
Our Price for Affiliate Content Writing Service is INR 1 per word or USD .013 per word.
How to Order?
Place your order by mailing at [email protected] and here's the link for making payment
MAKE PAYMENT TO BANK OR VIA CARD INSTANTLY
Once you make the payment via above link, you can expect 1000 word affiliate marketing article within 24 hours. Thus you can get cheap priced high quality affiliate review articles from Thoughtful Minds.
ORDER NOW!