Content Writing
Different types of content writing
Each type of content writing holds its own uniqueness and specialty and has the ultimate power to convert ideas into thoughts. The different types of content writing are:
SEO Content Writing
SEO content writing marketing is booming in India and several countries since an integral part of online marketing and SEO is content writing. This form of content writing needs to be precise and lucid and includes blogs, articles, descriptions etc. written after proper research of target market and relevant keywords.
Technical Writing
Technical writing is required in engineering, biotechnology, robotics, aeronautics, computer software and hardware, chemistry etc. This form of content writing is developed for user documents, technical modules, user manuals, help files, admin manuals, reports, technical literature etc.
Marketing and communication writing
This is the form of content writing that is most challenging and includes blogs, articles, newsletters, social media content, email campaign content, video content, marketing collateral etc. These forms of articles are aimed to compel readers for taking the intended action and therefore include lot of research.
Editorial and publication based writing
Content in this field is written for colleges, schools and higher education and is required to be updated on constant basis so that readers of modern times can readily get access to the online books on operating systems' latest versions.
Instructional Design
The techniques of technical and publication writing are amalgamated in instructional design writing. Story boards are also created in this along with instructional materials. With the change in curriculum and technology, different challenges arise that the writers overcome with hard work and deep research.
Report writing and research writing:
High level of content writing is the part of this form that includes report writing based on diverse industries research.
CSR writing
This is the content writing catering to social causes and helps engage the employees for participation. For this purpose, blogs, reports and different forms of communication material are developed.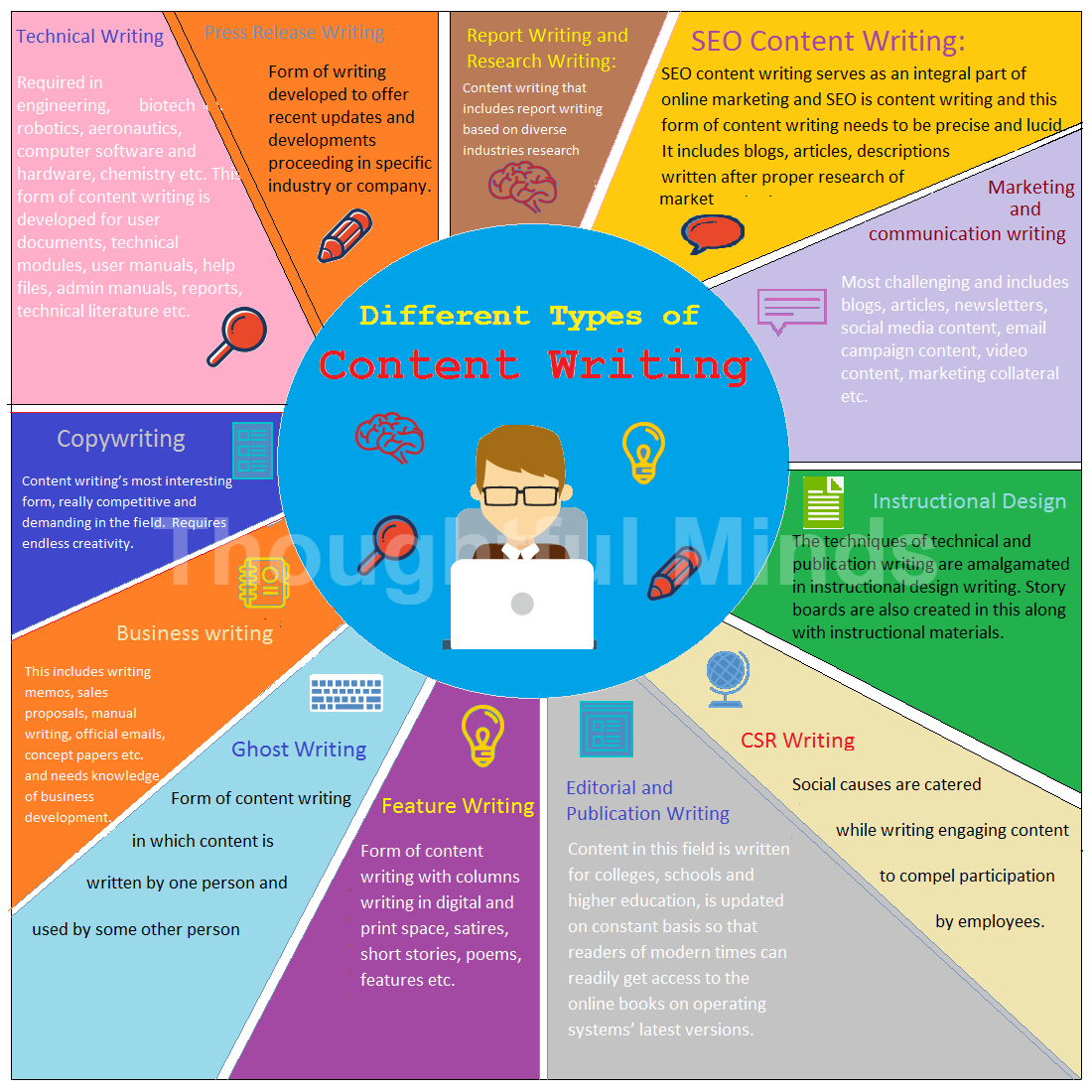 Feature Writing
This form of content writing includes columns writing in digital and print space, satires, short stories, features, poems etc. There is a kind of impersonal style in blogs to which the readers get connected on personal level.
Business writing
This includes writing memos, sales proposals, manual writing, official emails, concept papers etc. and needs knowledge of business development and analysis.
Press Release Writing
This is the form of writing developed to offer recent updates and developments proceeding in specific industry or company.  This form of writing now serves as a sales initiative part in which focus is kept on marketing and sales in the content.
Ghost writing
This is the form of content writing in which the content written by one person used by some other person under his name. Proper information regarding the content topic needs to be there with the simultaneous addition of creativity in it.
Copywriting
This is content writing's most interesting form and is really competitive as well as demanding in the field. Endless creativity helps offer the best piece of copywriting content