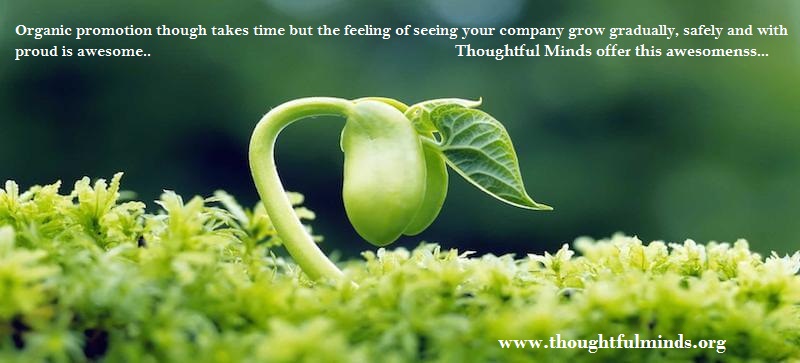 If you wish to increase traffic on your website, then regular blogs may serve as the best option. Order blogs on the topic of your choice for SEO from blog writers at Thoughtful Minds
No matter, how fast you get results from Google Adwords or PPC, the need for organic promotion is inevitable. Yes, if you wish to promote your business online, then it is very important to opt for organic traffic or promotion.
What is actually meant by organic traffic?
The traffic that is actually increased due to the impact of inbound marketing constitutes organic traffic. Whenever the visitor comes from search engines like Google or Bing using keywords or search term they are said to come from organic traffic. Here paid search ads don't pay much emphasis on the traffic and it is how it is different from inorganic traffic.
What is the role of organic traffic in SEO?
Unlike paid forms where the results in the form of ranking can only be obtained until you are paying for the ads that is not the case with organic promotion. The rankings that are obtained by Search Engine Optimization tend to stay for a longer period of time and offers better conversion as compared to the paid promotion.
As a general behavior, user tends to avoid clicking on the ads and prefer going to a website that is visible on the search terms or what we call keywords.
How to get organic traffic?
There are a number of ways to get organic traffic. The best one being taking the help of regular blogs. Blogging actually help in boosting traffic and bringing a website up in keywords. However, it has to be regular and must contain quality content only.
How many blogs per day are good for a website for SEO?
Usually 2-3 blogs a day for a month result in boosting organic traffic. However, it is very important to look out for the right search terms or keywords with good competition, so that there's no case of beating around the bush to find the rabbit. Moreover, it is good to include as many LSI keywords as possible as they help in better ranking in a less period of time.
Things to take care while ordering blogs
You must make a list of titles or topics well in advance
Make best use of Long Tail Keywords
Blogs can only offer results if they are interconnected properly
Posts must be regular without fail
Knowledge of SEO is must as else you may end up wasting all blog content
How to place an order for blog content?
For ordering blog content, all you are supposed to do is to mail your requirements at [email protected]. You should include the url of your website and your competitor's ( if any) to know the type of content you like.
What kind of blogs can be expected?
You can order blog on any niche as we have bloggers and content writers to write on any topic. All content is going to be user and search engine friendly and without any plagiarism. Optimum keyword density is always used as it results in better ranking.
What is the price for blog content?
Blogs are charged at INR 350 per blog up to 500 words. In case the blog is of technical in nature then it is charged at INR 1 per word. Please note, if the blogs are required regularly, then the charge is going to be INR 250 per blog ( for general).
How to order?
Simply mail at [email protected] and we will get back to you within 2 working hours without fail.