Hire technical content writers in India at cheap price having more than 13 years of experience to work on your project
There are several reasons and advantages behind selecting the technical content services to professional sectors. Technical writing is regarded as one of the most difficult tasks, as this task needs guides and writing manuals as well a hell lot of research. Although you know all specifications related to your project or service, you just can't afford to read whole manual and write technical content. Hence, it is very essential for you to hire a professional technical content writer or whole team of writers to work for your company. At Thoughtful Minds you will get technical content writers with over 13 years of experience and capability to do intense research to work on your project. Also you can interact with our writers over phone, Skype or Live Chat option to explain the requirements and to get the work done in the manner you want. Have a look at a sample of technical content by one of our experienced technical content writers: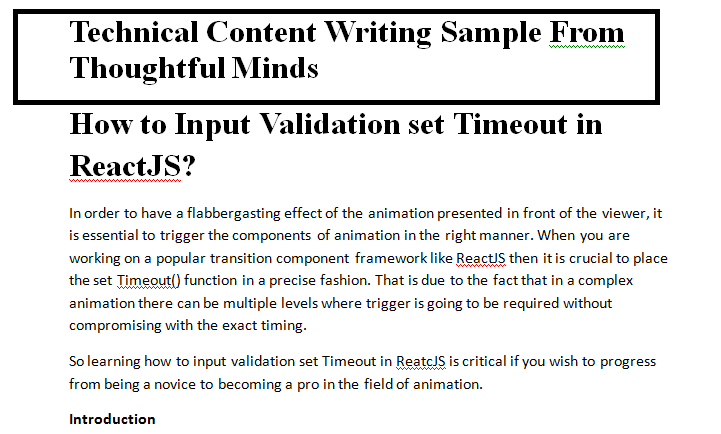 What is the price charged for Technical Content Writing?
Technical content writing is usually expensive as it mainly depends on research and so number of working hours usually determine the cost for the same. However, still our prices are the best in the market and even cheap as compared to charges charged by freelance technical content writers. We charge INR 400-500 or $7-$8 per 500 words which is the cheapest price for technical content writing in the world.
Worried for the quality?? You should not, as we have experienced writers who are selected after intense selection procedure. Moreover our training department is strong enough to train our existing employees and to help freshers get training to fit into our requirements. 
MOST RECENT CUSTOMER REVIEWS
Overall rating:

★★★★★

based on 931 reviews
Thumbs up from Mark, USA
★★★★★
"Thoughtful Minds is the perfect source where we have got flawless technical articles written by knowledgeable experts. We are now assured for our technical content requirements."
– Mark, USA
Thumbs up from Ruel, Germany
★★★★★
"Thorough research and excellent writing is what I have experienced from the work of Thoughtful Minds. The technical content was perfect and exceeded my expectations. Will take the again for sure in future projects."
– Ruel, Germany
Thumbs up from John, India
★★★★★
"Thank you for the flawless content delivered on time. It was thoroughly researched and really met my expectations. Thanks a lot for the perfect job!"
– John, India
Freelance technical content writers Vs writers from Thoughtful Minds Web Services Pvt. Ltd.
Price charged by us is cheaper than freelancers
You don't have option to contact freelancers directly, but here you can mail, call, and even personally meet them .
Fastest delivery time and with accountability which is not possible in case of freelancers.
Unlimited revisions are possible as Thoughtful Minds is maintaining its goodwill since last 9 years and it matters a lot for it.
All of our writers have good knowledge of important software like Copyscape, Ginger, Grammarly and so you can expect content that is 100% original, free from spelling and grammar errors, well researched.
Strong Knowledge of SEO and so you can have content with optimum keyword density, LSI and so on.
 Hire Technical content writers from Thoughtful Minds, Leading content writing company in Jaipur as virtual assistants
Although, you can always use our professional technical content writing services, however in case your assignment is big or you want dedicated technical content writers to work on your project only, then it is also possible. This option is not just feasible but affordable as well since you just need to pay salary of the virtual assistant. Since we are located in Jaipur, you can talk to the virtual assistant face to face or you can interact via Live Chat and Skype. For more information on how to hire virtual assistant in Jaipur, India for technical content writing, you may have a look at our page here. Moreover, if before ordering you wish to see some of our technical content writing samples then we are sharing few for your reference as under:
Technical content writing samples by few of our expert technical content writers
We have written technical content for a number of organizations/groups and few names include Golcha Minerals, FaadooEngineers, Bhagwati Machines, Hitech Enviro Engineers etc. Even there are few blogs related to technology written by us. Here have a look at our  blog on Recent Google update March 2015.
So what are you waiting for? Talk to us via Live Chat or call us or simply mail us your keywords and we will get back to you with the sample and price quotations. You may simply fill the Inquiry Form and we will get in touch.