*
INDIVIDUAL ACADEMIC PAPER
Abstract
Procurement management is a strategic process of managing and optimizing the supply chain from raw material to finished products. It is concerned with the process of acquiring raw material by maintaining supplier relations, balancing budgetary requirements and ensuring activities with the set deadline. The process of procurement management can be improved through an effective method of developing supplier relations for long term, accepting bid requests, relying on fair, straightforward and transparent methods of negotiation so that efficiency can be increased. The process of procurement has highly globalised and requires the suppliers and buyers to use latest technological gadgets in improving on the process of monitoring inventory and managing data.
GET HELP INSTANTLY
Place your order to get best assignment help
(since 2006)
---
The current research paper focuses on the importance of procurement management in businesses. It is based on investing resources towards strategic development and planning so that effectiveness of supply chain management can be improved. The process of purchasing and procurement are age old concept and are in existence since late 80s. The methods of procurement help an organization to streamline the activities and spending pattern for higher profits and revenues. A reduction in the sourcing cost provides the advantage of reduction in the basic cost and increase in profit margin. The research is based on the use of secondary research methodology so as to ensure in-depth analysis of the research topic.
Table of Contents
Research Theme
   Introduction
   Research aims and objectives
   Structure of the research paper
Research Methodology
   Kraljic Matrix
Chronology
Literature Review
Conclusion
Recommendation
References
Research Theme
Introduction
Business organizations follows the process of buying and selling of goods and materials for gaining profitability and therefore it is crucial for them to manage the buy side of the business. Organizational buying, sourcing, Procurement, purchasing, as well as strategic sourcing are few of the terms that are used to determine the function of procurement of materials. It has been identified that 70% of the overall sales revenue of the organization inclined towards purchasing of raw material especially for manufacturing sector. Therefore, it is important for the business to reduce the sourcing cost as it will directly put positive impact over overall busines profitability (Hesping and Schiele, 2015). Consider this as a basis, business organizations highly focus on "procurement transformation" that is how business adopt various ways to alter its procurement function to gain positive business outcomes. The paper will therefore highlight the ways on how the business organization can effectively transform or change its procurement function effectively.
Research aims and objectives
The research aims to structure the academic literature that will highlight the ways for effective procurement. The paper will clearly define "effective procurement" and will focus on crucial influencing factors that would define the success of effective procurement.
The overall research will address the question "What is the actual meaning of effective procurement and what are the ways that makes procurement effective for business organizations?"
Research objectives for the research are as follows:
To clearly understand the meaning of effective procurement
To determine various factors that influence the overall effectiveness of the procurement
To investigate the inter relationship between identified key factors
To determine challenges while indulging effective procurement services to the business operations
The research is beneficial for both public and private sector industries that are involved in undertaking the transformations related to procurement to gain competitive advantage in the market as well as to gain business profitability (Torabi et.al.2018). Additionally, consulting organizations can gain the benefit of additional revenue with the implementation of effective ways of procurement. It is therefore crucial for procurement department and related authorities to ensure that all ways for effective procurement are checked out in the positive manner in order to gain positive outcomes for the business entities.
Structure of the research paper
The research paper is structured into various sections to have detailed and better understanding of the issue. Initial section of the research is related to its introduction and also highlights its research objectives. Next section of the paper is related to literature that explains the details about procurement effectiveness and also support identifying the challenges and knowledge gaps related to the topic. Research methodology section is another crucial section of this research paper that helps in studying the final approach to the study. Last section includes conclusion that highlights the final analysis of the report. This section helps in identifying research limitations, overall contribution to the study and also recommends the research activities to be improved in future or further.
Research Methodology
Kraljic Matrix
The Kraljic matrix is an effective method of classifying the purchasing portfolio and providing strategic weight to various purchasing strategies. This matrix plays an important role in the process of data collection regarding the procurement strategy of a business. It helps a business to adapt itself to a purchasing strategy for effectiveness in the supply chain and customer management. The matrix is based on the four determinants of leverage (High profit- low supply risk), strategic partner (high profit- high supply risk), non critical items (low profit- low supply risk) and the Bottlenecks (low profit- high supply risk).  Each of these elements of the matrix requires a different perspective of purchasing. The approaches have their own complexities in terms of strategic implications. The Kraljic model helps in analysing the items and the number of suppliers in terms of market risk and cost involved in the product (Montgomery et.al, 2018).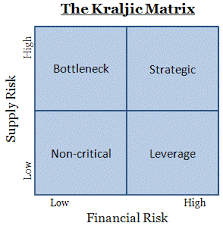 Figure 1: Kraljic model
The Kraljic matrix is a methodology that helps procurement practitioners decide which suppliers they should shape a close co-dependent or collaboration relationship with and which suppliers they should establish a more remote adversarial or arms-length arrangement with. The matrix does not consider the aspects of price and quality in the model. This leads to a limiting factor of the research as these factors play an integral role in the process of procurement and cannot be neglected.
According to the matrix, the supply chain strategy of an organization depends on the two factors of profit impact and the supply risk. The dimensions of the matrix provide recommendation for each quadrant that helps in ensuring effectiveness.
This matrix helps in supporting the professional purchasers to differentiate among the various suppliers and select strategy that helps in effectively managing supply chain and procurement in each of the quadrant. The tool is used in the four stages of purchase classification, market analysis, strategic positioning and action plan in order to identify the best and most suitable procurement strategy for different kinds of raw material used in a business (Gangurde and Chavan, 2016). The strategies for various quadrants are discussed as follows:
Step 1: Purchase classification
Bottleneck: The pressure from the customers in relation to higher demand creates higher supply chain risk and has low financial risk. This requires business to focus on the aspects of partnership in order to meet the changing needs of the customers. In such situations, it is recommended that the organization must focus on developing stronger relations.
Strategic: These aspects of an organization require high monitoring of the managers. The most effective strategy in this part includes analysing and monitoring risks, planning for contingencies, and planning for in house production of goods and services. They involve high supply chain as well as financial risk and hence needs to be regularly monitored.
Non critical items: These items are based on the concept of low supply chain as financial risk. The approaches for these items include optimizing the order volume of the business, standardised production and managing a sufficient inventory level. This is not a high risk zone and involves only small issues that can be easily managed with the above approaches (Padhi et.al, 2012).
Leverage items: This is the quadrant leading to high profit and low supply chain risk. The approaches for this method include using high purchasing power, determining substitutes of suppliers and managing higher order volumes. These approaches improve on the risk of procurement band helps in managing the cost of buying raw products from the suppliers.
Step 2: Market analysis
In this stage the porter's five force analysis is used in order to investigate the power among the suppliers and the customers. This helps in selecting the best procurement strategy for future growth of the business.
Step 3: Strategic positioning
The third step is of strategic positioning which is based on balancing the procurement and supply chain of product so as to get an effective market position.  This is based on purchasing portfolio matrix in order to record each of the items of supply and identify the best strategy of procurement. The three strategic positions for each of the resources includes exploit, diversify and balance (Narsimhan and Prasad, 2016).
Step 4: Action Plan
The action plan is developed for each of the item and material that is required in a business activity. The resources are exploited that need to be secured at good prices and long term contract. This helps in exploiting the supply for important items. The middle path between exploitation and diversification is balance which refers to the method of balancing supply and demand of raw material. The state of diversification refers to the reduction in the supply chain risk by developing relations with alternate suppliers for particular product. For example, using a different method of rate in order to ensure easy reach of product shows the diversification of activities (Montgomery et.al, 2018).
Chronology
Procurement practices has been indulged by the businesses from thousands of years back however with the changing competitiveness in the market the procurement practices have evolved from subordinate function to management level. Procurement has gained much importance during the industrial revolution during which the practice advanced from skill set of workers to the job function. However, there was noticed a shift back to the procurement initiatives from strategic role to clerical during the World Wars. During the 1960s, the function again took a managerial role as well as to the wider scale (Selomo and Govender, 2016). The process of material management was of high focus during this period and therefore the price factor for sourcing the materials was one of the crucial determining factors for most of the contracts. With such hype in the procurement effectiveness, the market noticed immense increased in the competition among the suppliers. By 1990s, the process of procurement transit into the strategic sourcing and this was considered as the beginning of evolution of procurement.
With the changing times, skills of procurement professionals are considered as the key to success for the business organizations. Evolution of technologies helped the business technologies to implement E procurement solutions which in turn now support the business entities to have more efficient approach towards strategic sourcing. With the advancement towards strategic sourcing, vendor management software helps the business organizations to save the time and to manage the healthy relationship with various suppliers available in the market.
The though the process of procurement exist while past decades, its role as strategic part of the business structure is still new. From past 30 years, procurement professionals are finding various ways for more development and expansion in procurement function that will directly put positive impact over success of the business organization.
Literature Review
Introduction to Procurement
Procurement is a process of acquiring products and services that involves buyers and sellers.  It is also termed as a purchasing agreement or functional activity between two parties that are engaged in business transactions according to Baltrunaite et. al (2018). Nowadays procurement is a common practice which includes people, product, payment, purchase, negotiation, sources, records and many more. It is mainly categorized in two types direct procurement and indirect procurement. It also includes scrutinization of quality and quantity of products as well as focused on ensuring best price and within time limit.
Process of procurement focuses on identifying the need of a prospective buyer and ensures to provide them services at the best price. As mentioned by Cheaitou and Khan, (2015) It also includes auctions, tenders and direct purchase. It has become one of the most important part of business strategies and policies in terms of profitability. It is also considered an effective part of a supply chain process. In other words, it can be explained as a deal that includes purchasing of goods by following few steps such as negotiating, sourcing, strategy, pricing, comparison and selection. In competitive sectors it plays a vital role in achieving business goals by acquiring the best price quality products as well as known as a strategic contributor that helps in meeting the value plan of an organization stated by Moretto and Ronchi, (2017).
Importance of Procurement Process
Procurement considers as an important aspect of an organization that involves a purchasing process between parties. As mentioned by Rejeb et. al. (2018) majorly it focuses on budget, cost reduction, transparency, planning, performance, strategy development. Generally, it can be explained as a management technique that engages in buying and selling of goods and services. It can be differed from one organization to another depending on their size and vision. Prime objective of procurement is to save money of an organization as much as possible. According to Patrucco et.al. (2016) it helps organization to compare prices provided by different vendors by conducting auctions, tenders and bids.  Importantly, it works with a goal of acquiring products with best price in mentioned time. It has a high impact on any business sector as it helps in saving lots of money as well as ensures that business policies and strategies are effectively follows.
As per Taherdoost and Brard, (2019) it is important for any business to manage and spend in transactions that are worthy and cost effective. In such case procurement plays a vital role by planning annual purchase plan, forecasting, purchasing, market analysis and other cost benefits factors. It majorly helps the organization in acquiring best quality goods with low price in the mentioned time frame that will add value to its targeted audience. Additionally, it also focuses on reducing risk by adopting different methods which provides lots of benefits to the parties involve in the organizational project.
Generally, it is termed as a business or management technique that evolves around potential buyers and sellers as well as engaged in identifying best option and deal by comparing all available options with the aim of low cost and will reduce work load. As per Hoezen et. al. (2015) it adds lot of benefits to an organization such saves time, cost effectiveness, quality assurance as well as help the organization to achieve business goal for a long-term. It also widens the option and allow buyer to search a potential supplier who can provide worthy deal to enter. Mainly its emphases on selecting a vendor, strategy planning, payment negotiation, final selection, contract and final purchase as well as save lots of money in the current competitive sector.
Procurement is one of the effective and important factors of a smooth-running organization as it can be modified or change as per the business need. In addition, it also concentrates on the business motive of delivering services by achieving maximum benefits and efficiently sail in the competitive sector stated by Ferri et. al. (2016).
Role of Different Factors in Procurement Effectiveness
Effectiveness can be termed as involvement of a factor that is successful in achieving the desired result. It focuses on a long-term goal rather than a short-term depending on the structure of an organization mentioned by Araújo and Alencar, (2017) it is necessary to ascertain various factors that plays a crucial role in procurement effectiveness in order to evaluate business practice, impact on the organizational motive and procurement performance. As mentioned earlier procurement is a process that focuses on acquiring products and services while considering quality, price value and time limit as well as concentrate on finding potential suppliers.
Various factors are involved in procurement process that performs different role in its effectiveness. These factors influence the performance of the organization and helps in achieving the business objective and goals. Factors can be categorized into internal factors and external factors. Each factor has a different role and impacts the functioning as well as the performance of the procurement process. External factors include political, financial, environmental, technological and social cultural factors. According to Tan and Lee, (2015) on other hand internal factors include procurement planning, procurement procedures, staff competency and resource allocation. All above mentioned components influence the price, budget, cost, comparison, vendor and trade. In the competitive scenario these factors play a effective role in vendor selection by comparing the different aspects of tenders, auctions, bids and offered price.
Furthermost, it is necessary to have a deep knowledge of the said factors in order to identify their advantages and affects that may influence the effectiveness of procurement in both ways either positive or negative. Potential suppliers and vendors selection is determined on the basis of these components and procurement managers need to evaluate the effectiveness of each factor very carefully so that the business plan and strategies work accordingly. As per Kakwezi and Nyeko, (2019) adaptation and accuracy of the procurement factors helps in measuring the quality, quantity, cost and time aspect given by the selected suppliers as well as helps in reaching the targeted audience.
Challenges Associated with Procurement Process
The procurement process has many advantages ut with that there are lots of challenges it has to deal with. According to Jing et. al. (2020) these challenges acts as hurdles to enjoy the benefits of procurement process. In the competitive business scenario, every organization has to face different challenges depending on their business, size, budgets and needs. Sometimes it becomes challenging to cope up with these adverse factors and issue which stops the organization to fulfill its mentioned and set goals and prospective. Uncertainties and challenges affect resources to be used in ascertain manner that leads towards failing in business goal and reduces the profitability of the organization.
Some of the challenges that impacts the procurement process can be named as poor supply chain, risk management, supplier conflicts, ineffective strategy, control on expenditure and visibility of spending, inappropriate data and contract terms stated by Alaloul et. al. (2016). Every organization has deal with numerous risk such as frauds, corruption, bribe, market risk, cost fluctuation, delivery risk and many more that can affect business process. Data inaccuracy is considered as one of the biggest challenges that impacts the organization very badly. Unorganized and inaccurate data can hinder the organization functioning because all important and crucial business decision are taken on the available data. Additionally, supplier selection is also a biggest challenge because it is difficult to identify the potential supplier who matches the business standards and works within the mentioned time frame as per Petro and Gardiner, (2015).
In addition, challenges like lack of transparency, trust, formal contract, non-dedicated procurement manager, cost fluctuation, improper behaviour, accidentals orders, reliability etc. are also few obstacles that affects the organizational performance and reduce its effectiveness. According to Jiang, (2017) if these challenges are not identified and investigated properly will impact the business vision and it will be difficult to achieve the desired results in the time frame.
Conclusion
Therefore, research highlighted the process of procurement that includes potential buyer and suppliers. It explained the impact of procurement effectiveness in the business in terms of how it works in a certain way to achieve the business objectives in the mentioned time. Study also emphasized on several factors that affects the efficiency of an organizational procurement. It also explained the entire process of identifying and selection of an appropriate seller that fulfill all laid criteria as mentioned by the organization. Different factors such as cost reduction, comparison, time constraints, price bidding were also studied.
Majorly research evaluated the importance of procurement process as well as highlighted its benefits to an organization. It also focused elements like low cost, strategy planning, tenders, auctions, quality, quantity, time analysis, contract and many more that plays an important role in identifying an efficient seller. Moreover, it has also evaluated the role of certain factors that can be helpful in achieving the business goals for a long-term as well as deep research is conducted in ascertaining the role of each element individually in procurement effectiveness. Additionally, study also figured out crucial internal and external factors that influence the procurement process.
Furthermore, study also explained many challenges and uncertainties comes with procurement process. It focused on challenges that are time bounded, cost related, trust issues, competition, inadequate data, price comparisons, accuracy, contract terms and many others. Research highlighted the impact of mentioned challenges and its consequences on the business. It displayed how these uncertainties affects the organizational vision as well as explained its impact on achieving business goal. Additionally, it also investigated that each organization has their own challenges depending on their size and business goals.
Recommendation
In general, the study found out to be successful however there is always the possibility to identify the elements that can be evaluated in the different manner to gain more better results.   In the current study, there has been identified the scope the adding more elements to the literature review such as inter relationship between various factors can be investigated to have more clear idea towards increasing the effectiveness of the process of the procurement. In addition to this, implementation of procurement effectiveness model could have been applied to have better understanding towards application-based approach.
In addition to this, there has been identified number of opportunities that could have helped in future research. Research could have been more practical with the application of model in varied industries. Along with the study of interrelationship of various factors, it is also important for the researcher to highlight more and more advantages of implementing the process of procurement. The use of technology can also be highlighted which would enhance the overall outcome of the research and would be highly beneficial for the business organizations.
References
Books and Journal
Alaloul, W.S., Liew, M.S. and Zawawi, N.A.W.A., 2016. Identification of coordination factors affecting building projects performance. Alexandria Engineering Journal, 55(3), pp.2689-2698.
Baltrunaite, A., Giorgiantonio, C., Mocetti, S. and Orlando, T., 2018. Discretion and supplier selection in public procurement. The Journal of Law, Economics, and Organization.
Cheaitou, A. and Khan, S.A., 2015. An integrated supplier selection and procurement planning model using product predesign and operational criteria. International Journal on Interactive Design and Manufacturing (IJIDeM), 9(3), pp.213-224.
de Araújo, M.C.B., Alencar, L.H. and de Miranda Mota, C.M., 2017. Project procurement management: A structured literature review. International Journal of Project Management, 35(3), pp.353-377.
Ferri, L.M., Oelze, N., Habisch, A. and Molteni, M., 2016. Implementation of responsible procurement management: An institutional perspective. Business Strategy and the Environment, 25(4), pp.261-276.
Gangurde, S.R. and Chavan, A.A., 2016. Benchmarking of purchasing practices using Kraljic approach. Benchmarking: An International Journal.
Hesping, F.H. and Schiele, H., 2015. Purchasing strategy development: A multi-level review. Journal of purchasing and supply management, 21(2), pp.138-150.
Hoezen, M. and Volker, L., 2015. The importance of procurement negotiations for project success. IPMA Projectie Magazine, 1, pp.2-8.
Jiang, W.Q., Wang, P. and Chen, G.Q., 2017. Concentration distribution of environmental dispersion in a wetland flow: Extended solution. Journal of Hydrology, 549, pp.340-350.
Jing, S., Hou, K., Yan, J., Ho, Z.P. and Han, L., 2020. Investigating the effect of value stream mapping on procurement effectiveness: a case study. Journal of Intelligent Manufacturing, pp.1-12.
Kakwezi, P. and Nyeko, S., 2019. Procurement processes and performance: Efficiency and effectiveness of the procurement function. International Journal of Social Sciences Management and Entrepreneurship (IJSSME), 3(1).
Montgomery, R.T., Ogden, J.A. and Boehmke, B.C., 2018. A quantified Kraljic Portfolio Matrix: Using decision analysis for strategic purchasing. Journal of Purchasing and Supply Management, 24(3), pp.192-203.
Moretto, A., Ronchi, S. and Patrucco, A.S., 2017. Increasing the effectiveness of procurement decisions: The value of big data in the procurement process. International Journal of RF Technologies, 8(3), pp.79-103.
Narsimhan, S. and Prasad, D., 2016. Competitive negotiation tactics and Kraljic portfolio category in SCM. Journal of Supply Chain Management System, 5(3).
Padhi, S.S., Wagner, S.M. and Aggarwal, V., 2012. Positioning of commodities using the Kraljic Portfolio Matrix. Journal of Purchasing and Supply Management, 18(1), pp.1-8.
Patrucco, A.S., Luzzini, D. and Ronchi, S., 2016. Evaluating the effectiveness of public procurement performance management systems in local governments. Local Government Studies, 42(5), pp.739-761.
Petro, Y. and Gardiner, P., 2015. An investigation of the influence of organizational design on project portfolio success, effectiveness and business efficiency for project-based organizations. International Journal of Project Management, 33(8), pp.1717-1729.
Rejeb, A., Keogh, J.G. and Treiblmaier, H., 2020. How blockchain technology can benefit marketing: Six pending research areas. Frontiers in Blockchain, 3, p.3.
Selomo, M.R. and Govender, K.K., 2016. Procurement and Supply Chain Management in Government Institutions: A Case Study of Select Departments in the Limpopo Province, South Africa. Dutch Journal of Finance and Management, 1(1), p.37.
Taherdoost, H. and Brard, A., 2019. Analyzing the process of supplier selection criteria and methods. Procedia Manufacturing, 32, pp.1024-1034.
TAN, M.H. and LEE, W.L., 2015. Evaluation and improvement of procurement process with data analytics. International Journal of Advanced Computer Science and Applications, 6(8), p.70.
Torabi, S.A., Shokr, I., Tofighi, S. and Heydari, J., 2018. Integrated relief pre-positioning and procurement planning in humanitarian supply chains. Transportation Research Part E: Logistics and Transportation Review, 113, pp.123-146.