Google is experimenting and much can be seen these days. With news like Goo.gl, the popular url shortner getting discontinued, adds related to Bitcoin to be taken off, new Google My Business Feature, now there's another news which is though yet not confirmed. Yes, it may be taken as a good news for the fast food locations or food industry and is even liked by the users.
Google Maps in the United States, is testing a feature under which drivers are getting turn-by-turn directions with the help of landmarks in the form of fast food restaurants. This is confirmed and even noticed by a number of users on Twitter.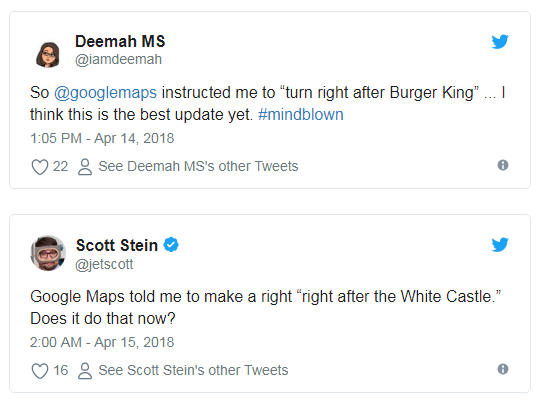 As mentioned above also, it is not yet confirmed but still no one can rule the possibility of Google testing this feature of Google Maps to offer directions using the fast food joints. Also, so far it is not at all seen as a marketing effort by Google to endorse food joints, but yes anyhow it is going to increase your craving for food, which in turn means good business for the food joints or restaurants.
This feature surprisingly is not yet reported by any user from India and would be interesting to see if anything like this may happen. India is indeed a good market for food industry and anything like this is going to benefit numerous hotels, restaurants and food joints.
This recent Google feature may prove to be very useful if you are visiting an area, you're not familiar with. It is so because, it is really easy to first of all spot a fast food joint and then patiently read street sign from there.
If you wish to get Google updates like this that can help improve your SEO knowledge or benefit your digital marketing efforts, then Subscribe our blog and don't forget to share the same if you find it useful to your friends and colleagues working in the field of digital marketing or SEO.
Remember knowledge increases if you pass it on…..
You may read also: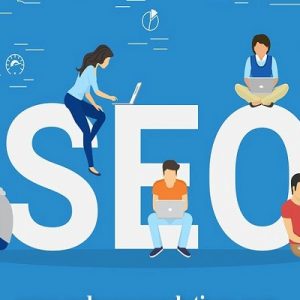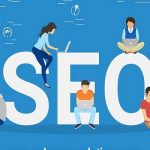 5 Google Updates by Google that changed SEO